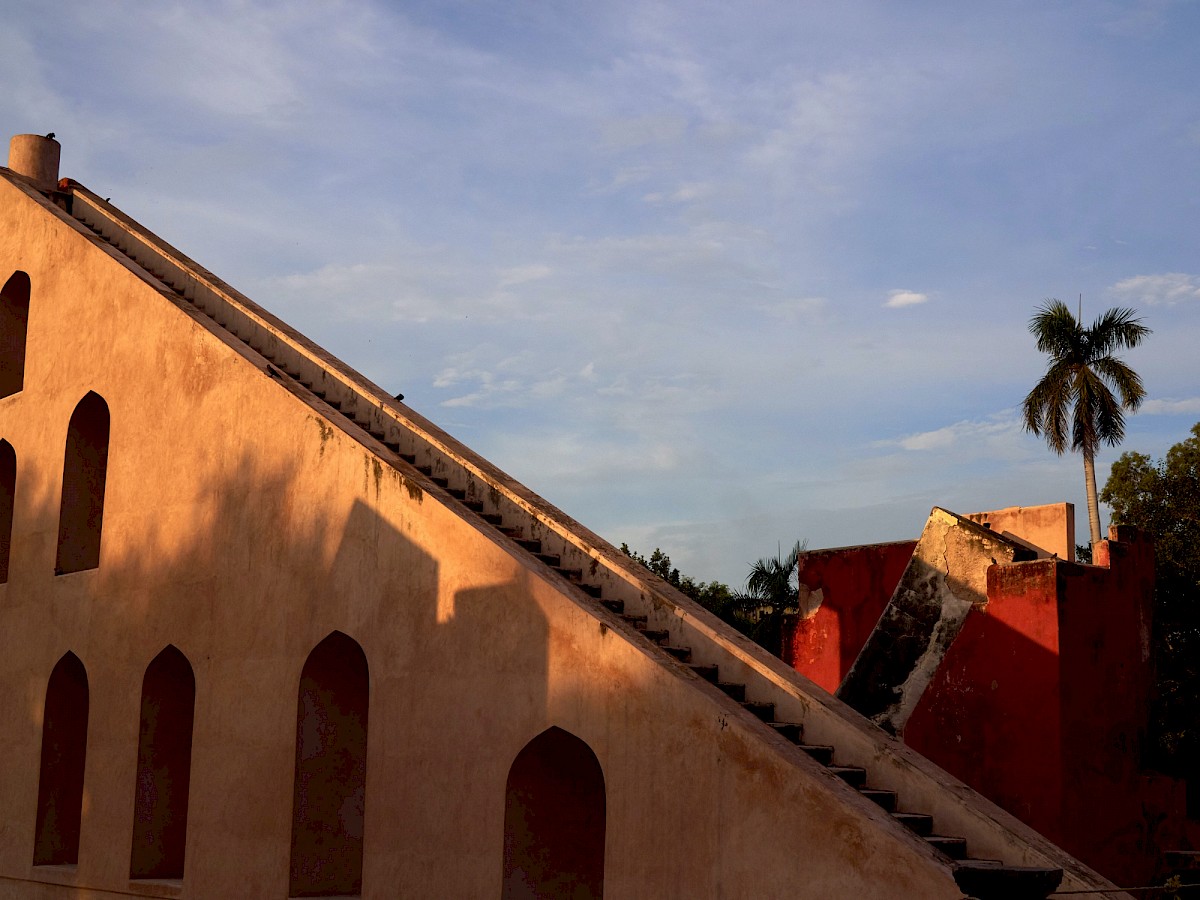 Jantar Mantar
Standing proud since 1723, when it was built for the study of time and space, Jantar Mantar is in the heart of Protest Street, Delhi. Ironically, it bears witness to hundreds of years of protest against the British Raj, continuing to the present day when people from all over India gather to vent their frustration, anger and despair.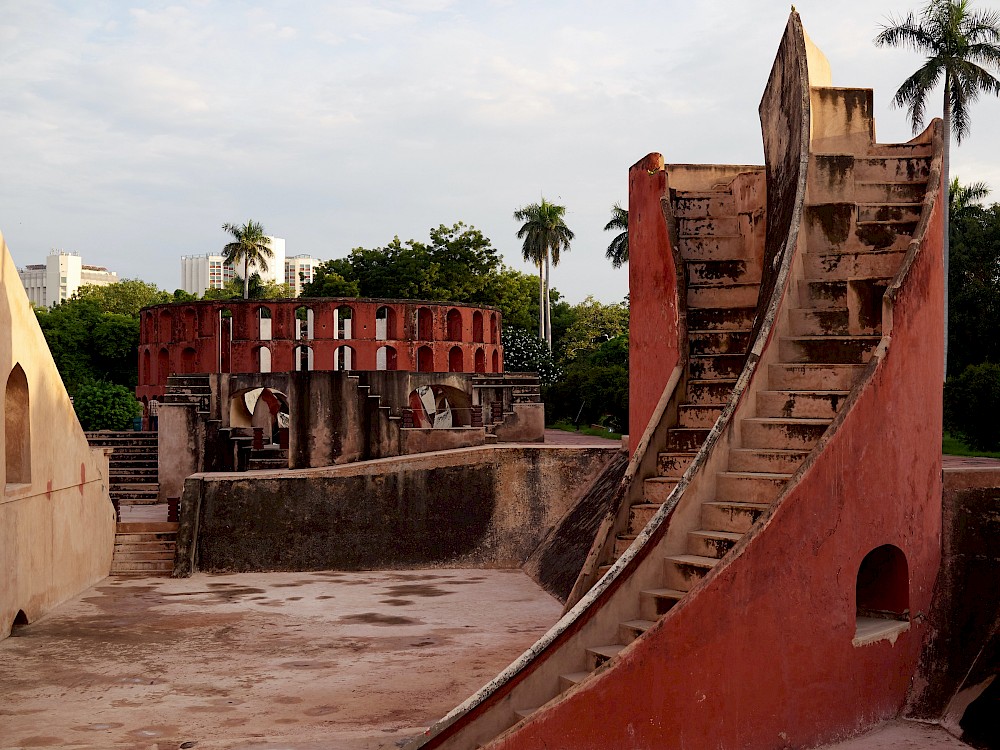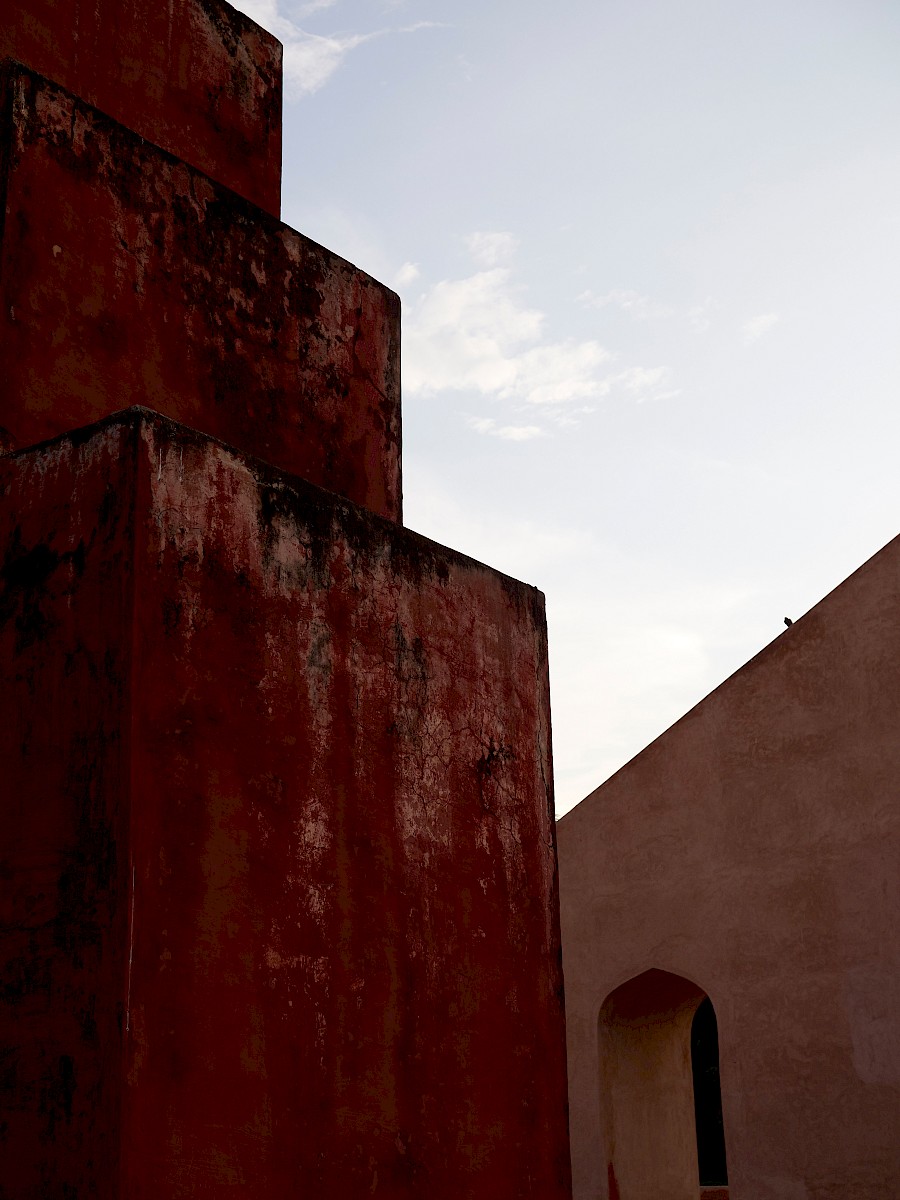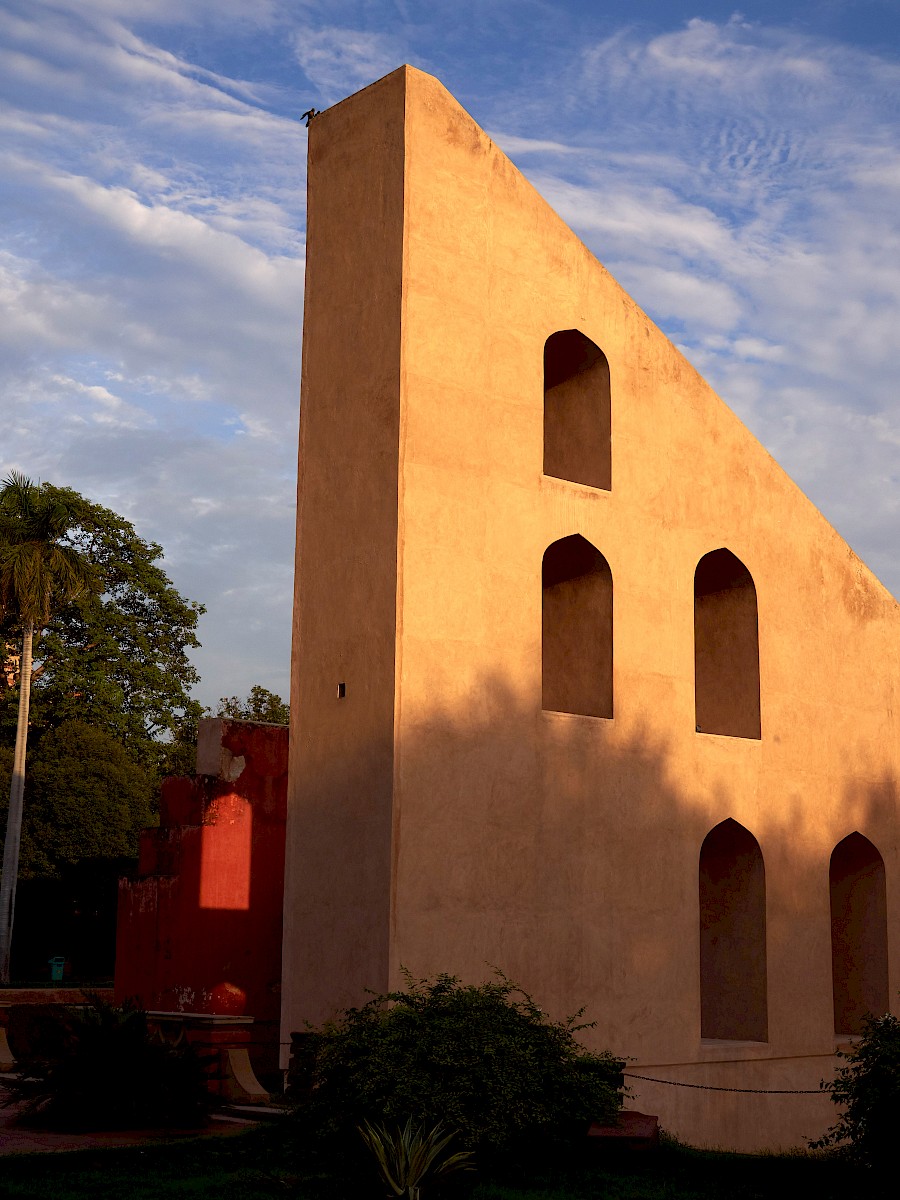 Jantar Mantar, roughly translated, means 'calculation instrument'. Located in the heart of urban New Delhi, Connaught Place, Jantar Mantar is a vast observatory built to improve the study of time and space. It was built in 1724 by Maharaja Sawai Jai Singh 11 of Jaipur at the instruction of the Mughal Emperor of the time, Muhammed Shah.
Maharaja Sawai Jai Singh 11 (3 Nov 1688 – 21 Sep 1743) was the Hindu Rajput ruler of the kingdom of Amber (later called Jaipur). Ascending the throne at the tender age of just 11, he developed great interests in mathematics, architecture and astronomy. In addition to the five Jantar Mantars he also built the city of Jaipur. To this day he is considered to be the most enlightened King of 18th Century India.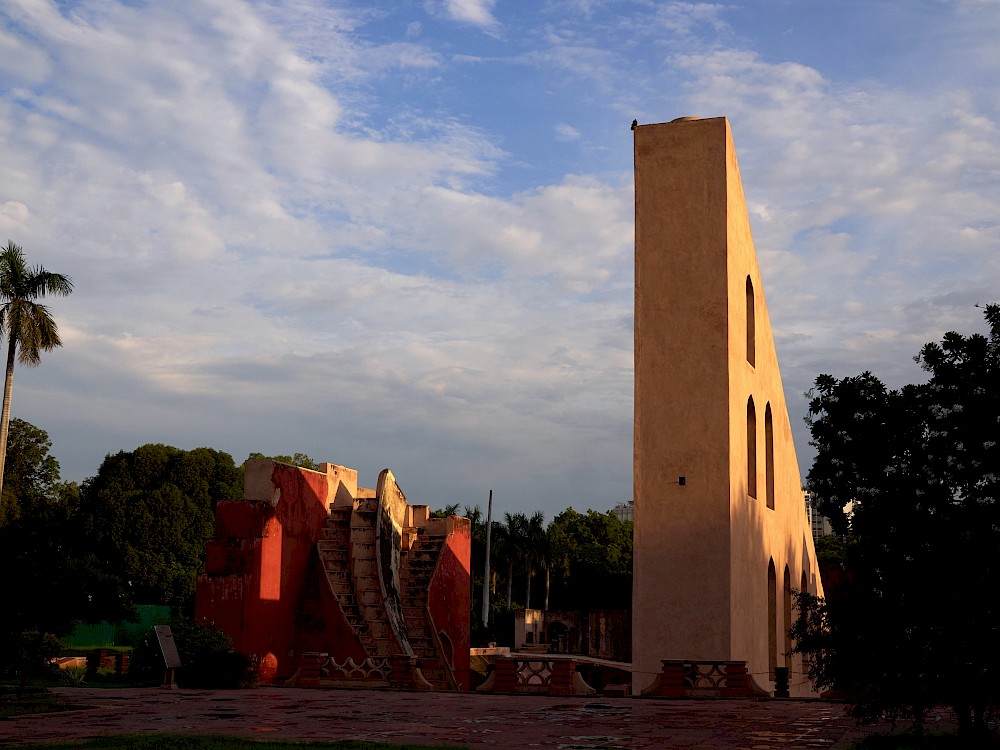 Muhammad Shah was the Mughal Emperor between 1719-1748. He was a great patron of arts, including musical, cultural and administrative developments. He charged Maharaja Sawai Jai Singh with the task of revising the calendar and the astronomical table.
In 1719, Maharaja Sawai Jai Singh 11 witnessed a noisy discussion in the court of the Mughal Emperor Muhammad Shah, on how to make astronomical calculations to determine an auspicious date when the emperor could start a journey. This was a challenge that appealed to his deep interest in astronomy. Thus, in the midst of local wars, foreign invasions and constant turmoil, he managed to complete the construction of not one but five astronomical observatories, between 1724 – 1735, in New Delhi, Jaipur, Ujjain, Mathura and Varanasi. The largest one is in Jaipur and features the world's largest sundial.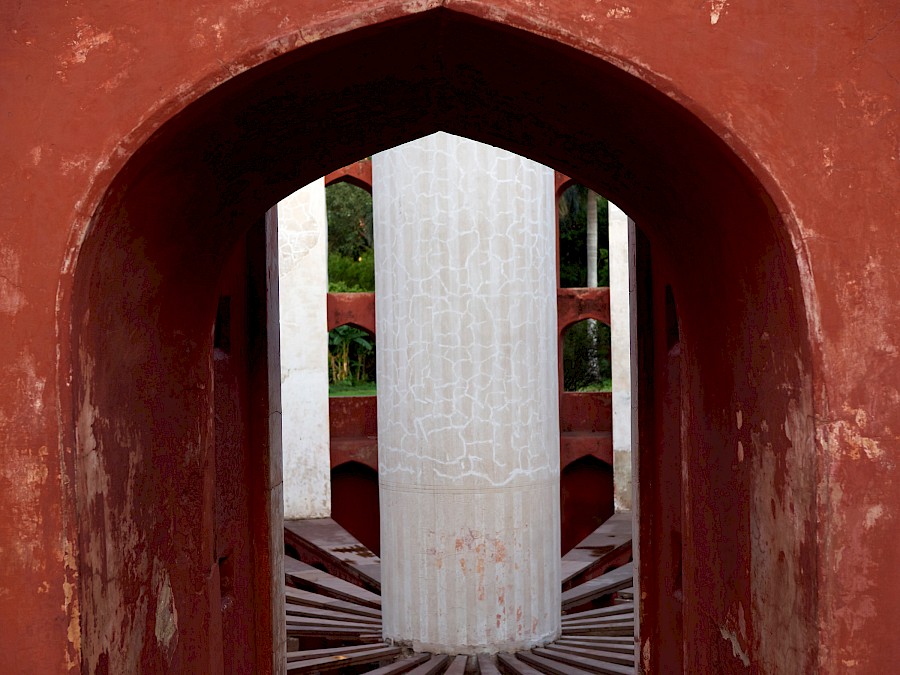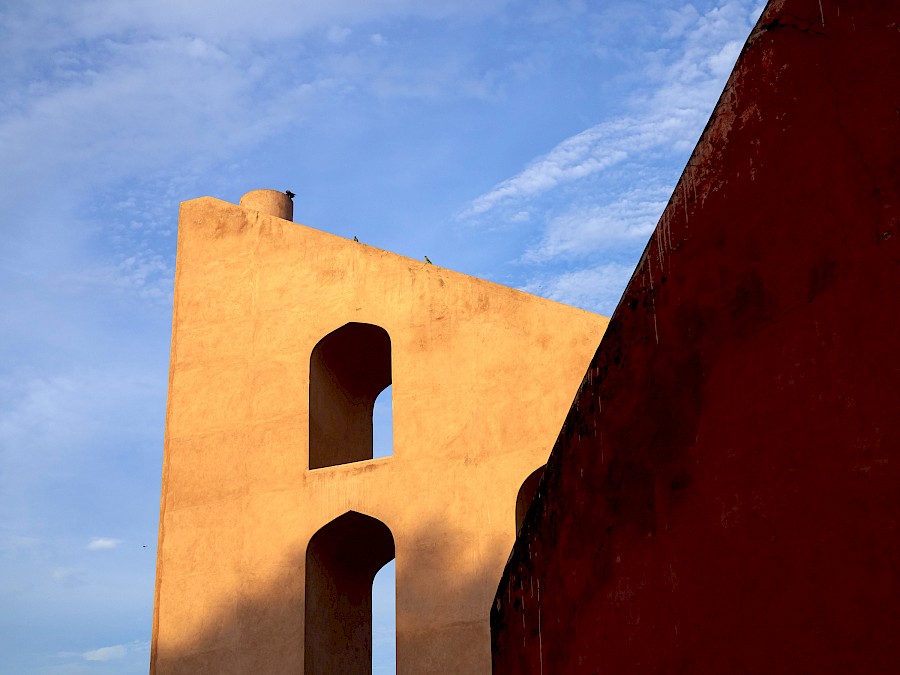 The Jantar Mantar, New Delhi consists of thirteen masonry built architectural astronomy instruments that can be used to compile astronomy tables and predict the movement of the sun, moon and planets. The intelligent construction and placements of these instruments allowed the observer to pinpoint the exact position of heavenly bodies with the naked eye.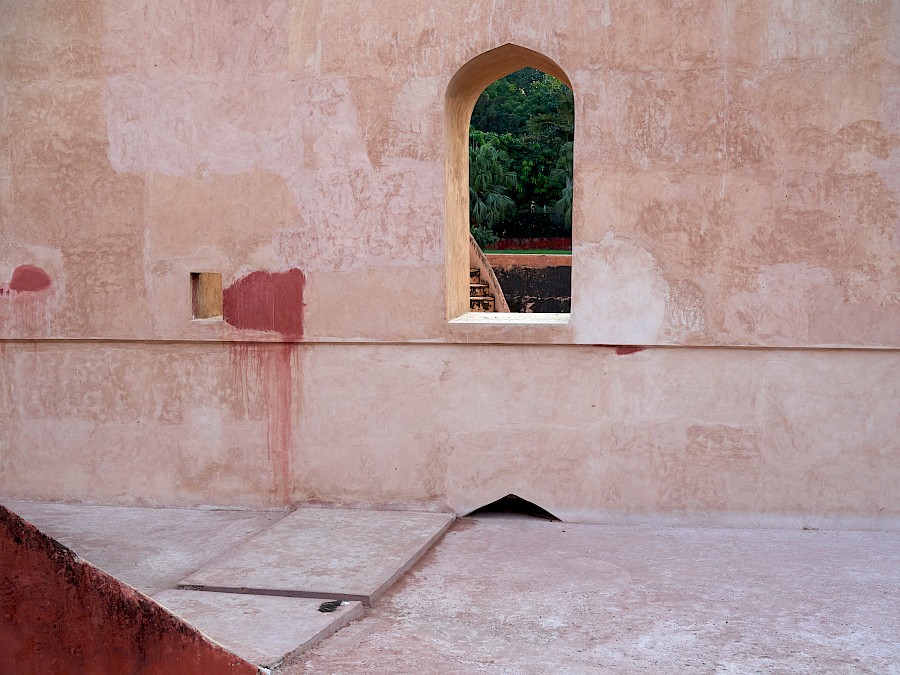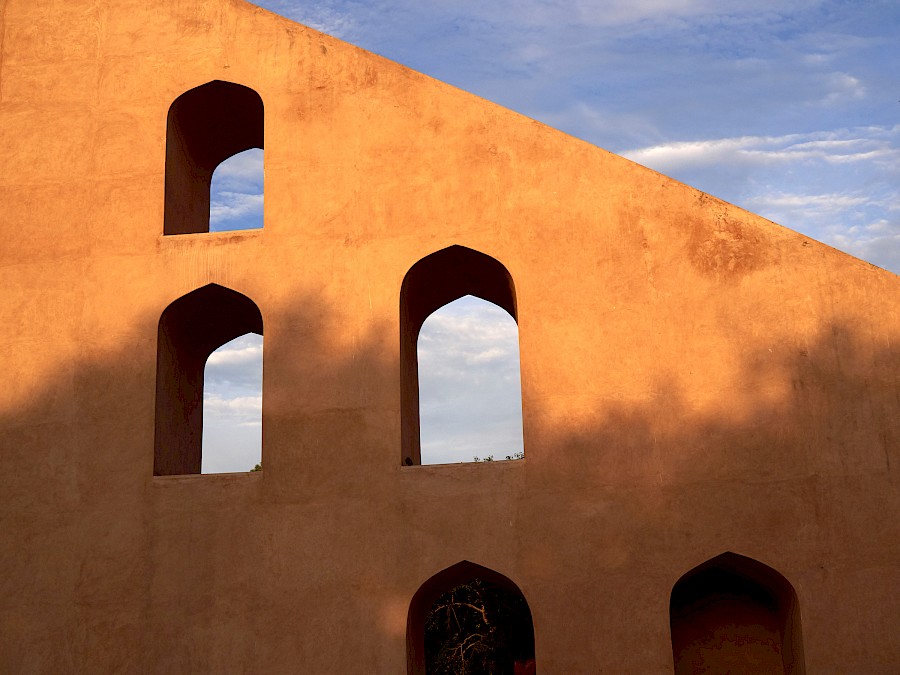 Built of brick, rubble and then plastered with lime, these structures suffered extensive damage over time but have been restored faithfully. These terracotta and clay coloured structures sit oddly at home among the modern structures towering around them, an oases of calm and precision surrounded by the rush of big city business. Its arches and shadows once used in the science of time and space, now shelter and hide young couples snatching a quick kiss away from curious/prying eye.