Glow Up with Melanie Grant
Few things in life offer such a sense of all-encompassing luxury as the facial. High-touch, intimate and sensory, this treatment promises to instantly uplift the skin and spirits. Its magic lies not just in its beautifying benefits, but in the unapologetic requiescence it provides. With many of us spending more time than ever at home (and in need of some serious escapism), reimagining this ritual in one's own bathroom is possible with the right tools and techniques.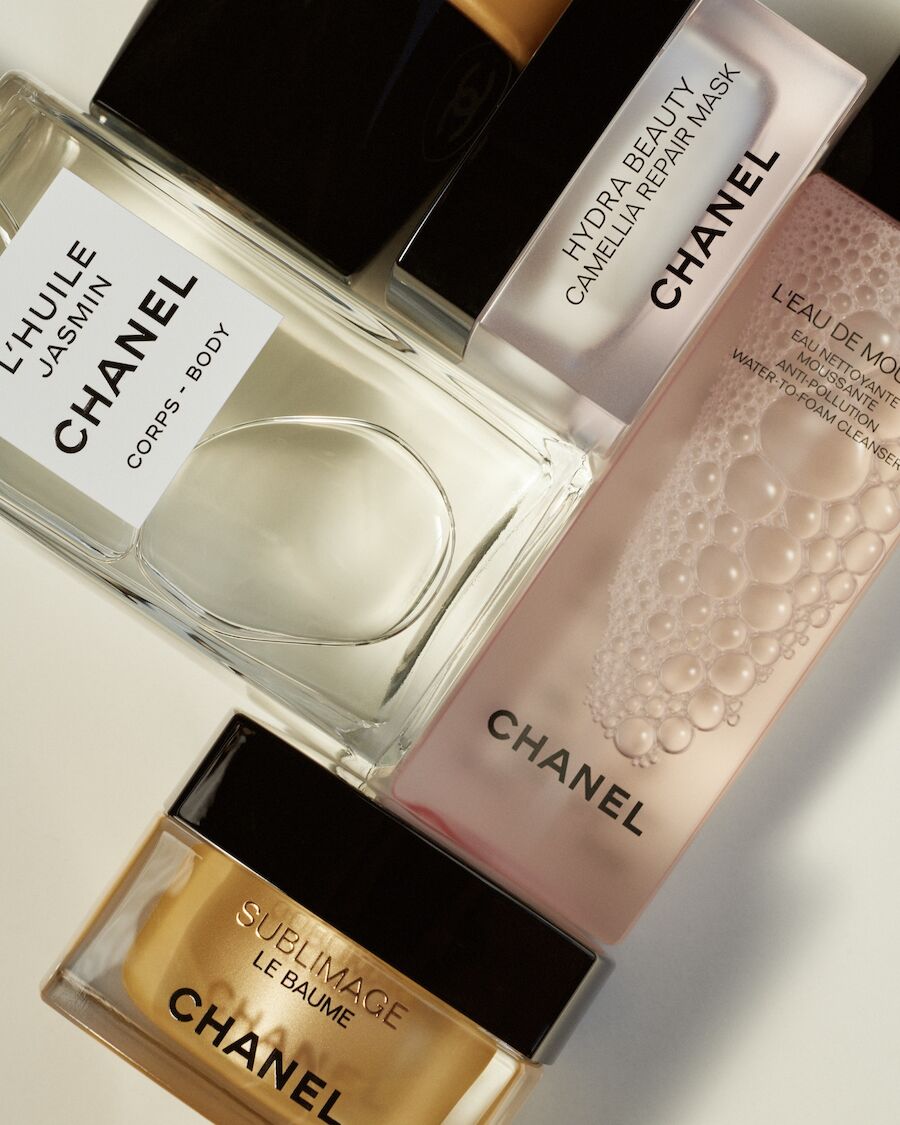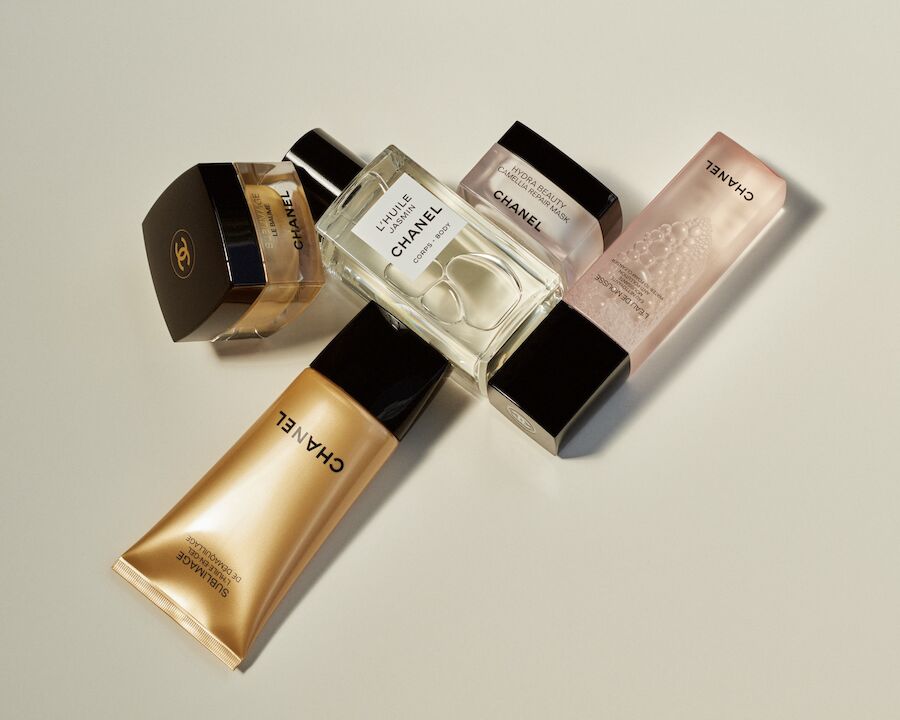 "When it comes to an ideal home regime it's important that your products are efficacious and purposeful, but you also really need to love the products you're using. The sensorial and experiential elements are so important when you're bookending your day with skincare."
A longtime CHANEL skincare devotee and ambassador, Melanie looks straight to the brand's well-appointed offering of creams, masks, lotions and accoutrements for the DIY facial. "Super luxe and high performance, they really enhance the 'home spa' experience for me," she explains. As you might expect from the world's most iconic house (credited, no less, with inventing the LBD and quilted purse), the CHANEL skincare offering is palpably chic, yes, but also backed by substance: vigorous research, cutting-edge ingredients and intelligent formulations.
Below, Melanie takes us through six steps for the ultimate at-home facial, each paired with her expert advice and a matched CHANEL skincare product.
STEP 1: Gentle Cleanse
Cleansing is a fundamental first step in setting yourself up for an at-home facial. It removes any debris and impurities collected throughout the day, creating a clean canvas so that all subsequent products will be optimally absorbed. A double cleanse is even better than a single cleanse; this dual approach results in deeper, more thorough results.
This first cleanse aims to delicately lift any superficial build-up without stripping the skin or interfering with the acid mantle; the very thin film of oil, amino acids and sweat which forms a protective barrier over the topmost layer of the skin. The acid mantle is important to skin health because it helps to prevent cellular water loss (effectively keeping the skin hydrated) and is a first line of defence against environmental aggressors like bacteria, air pollution, blue light and UVA/UVB rays.
"I'm a firm believer in proper preparation, so double cleansing as part of a DIY facial is essential. First, cleanse with something gentle like an oil or milk to break down makeup and SPF. I like to really work my first cleanse into my skin to emulsify and break down makeup, flush stagnant lymph flow and boost circulation."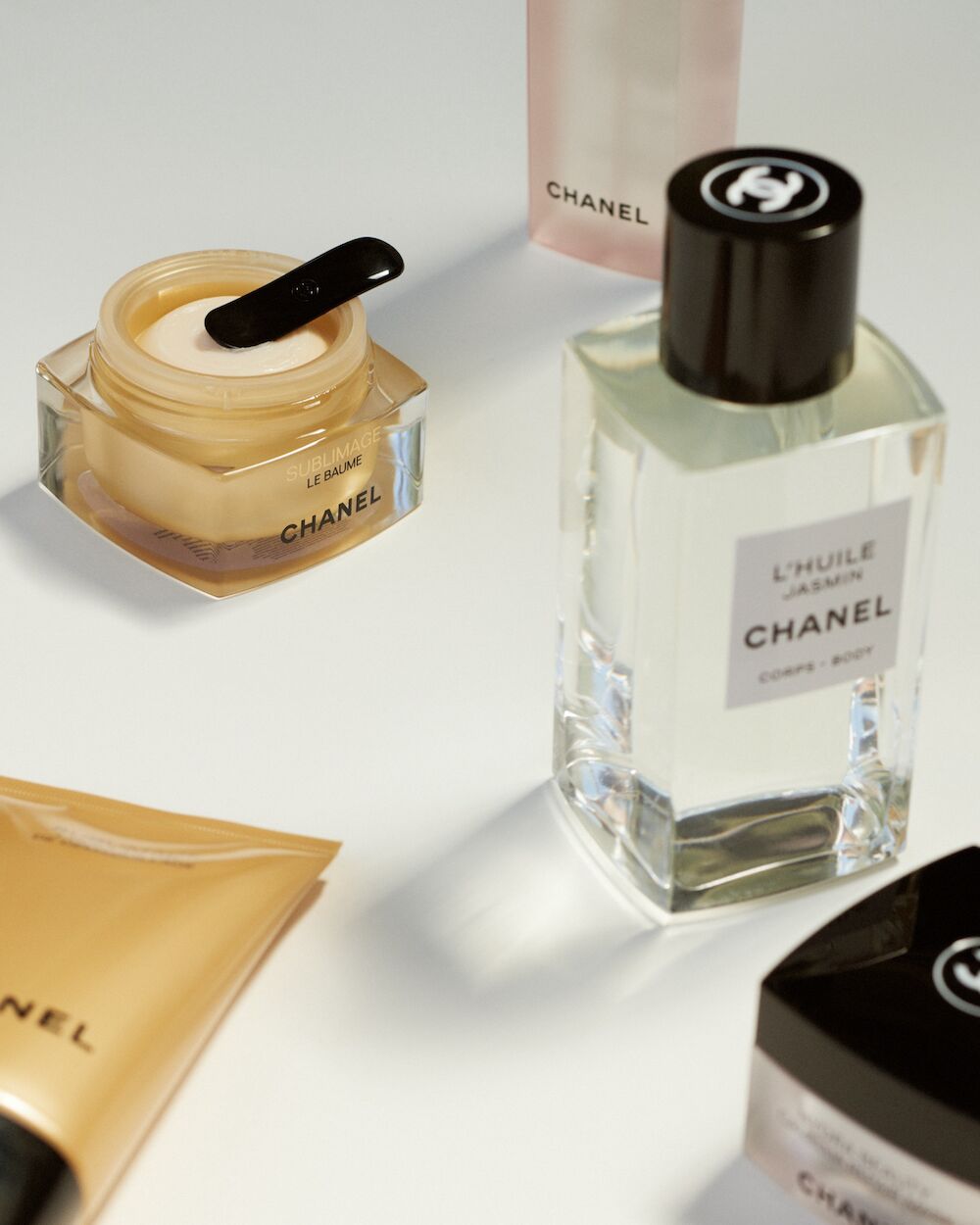 Melanie suggests using CHANEL's L'Huile-en-Gel de Démaquillage for your first cleanse. The texture of this clever chameleon cleanser has been formulated to shapeshift when massaged into the skin. Upon contact with the skin's warmth, the gel transforms into an oil. Then, meeting water, it alters once more into a milk. "It allows for both a thorough cleanse and purposeful massage, either morning or evening," she adds.
STEP 2: Active Cleanse
The second cleanse goes a little deeper. Now that the skin's surface is rid of impurities, it's time to penetrate the pores to dislodge any dead cells and sebum that may be accumulating. "An active second cleanse frees the pores of deep-set grime and impurities, while refreshing and refining the complexion," Melanie explains. "This helps to prepare the skin for the nutrients in your DIY facial to follow."
The double cleanse is thought to have originated in Japan and Korea hundreds of years ago, and today marks the beginning of the meticulous K-beauty routine. Your second cleanser could contain some enzymes or acids (such as glycolic, lactic or malic acid) that perform a light exfoliating function. "If you can't, or don't want to, incorporate acids into your second cleanse, a formula with a delicate lather is key. L'Eau de Mousse Anti-Pollution Water-to-Foam Cleanser breaks apart dirt and impurities while shielding from pollution and free radicals," Melanie notes.
Part of CHANEL's curated cleansing collection, which elevates the daily act of cleansing into a multi-sensory experience, L'Eau de Mousse Anti-Pollution Water-to-Foam Cleanser is a micellar water that turns into a lightweight, cloud-like foam with just one pump. Soap-free and formulated with mineral-replenishing marine spring water and pollutant-protecting blue microalgae, L'Eau de Mousse Anti-Pollution Water-to-Foam Cleanser makes for a soothing second cleanse that fortifies the skin's barrier. Disperse a pump into the palm, and lightly massage into the skin with circular motions before rinsing and patting dry.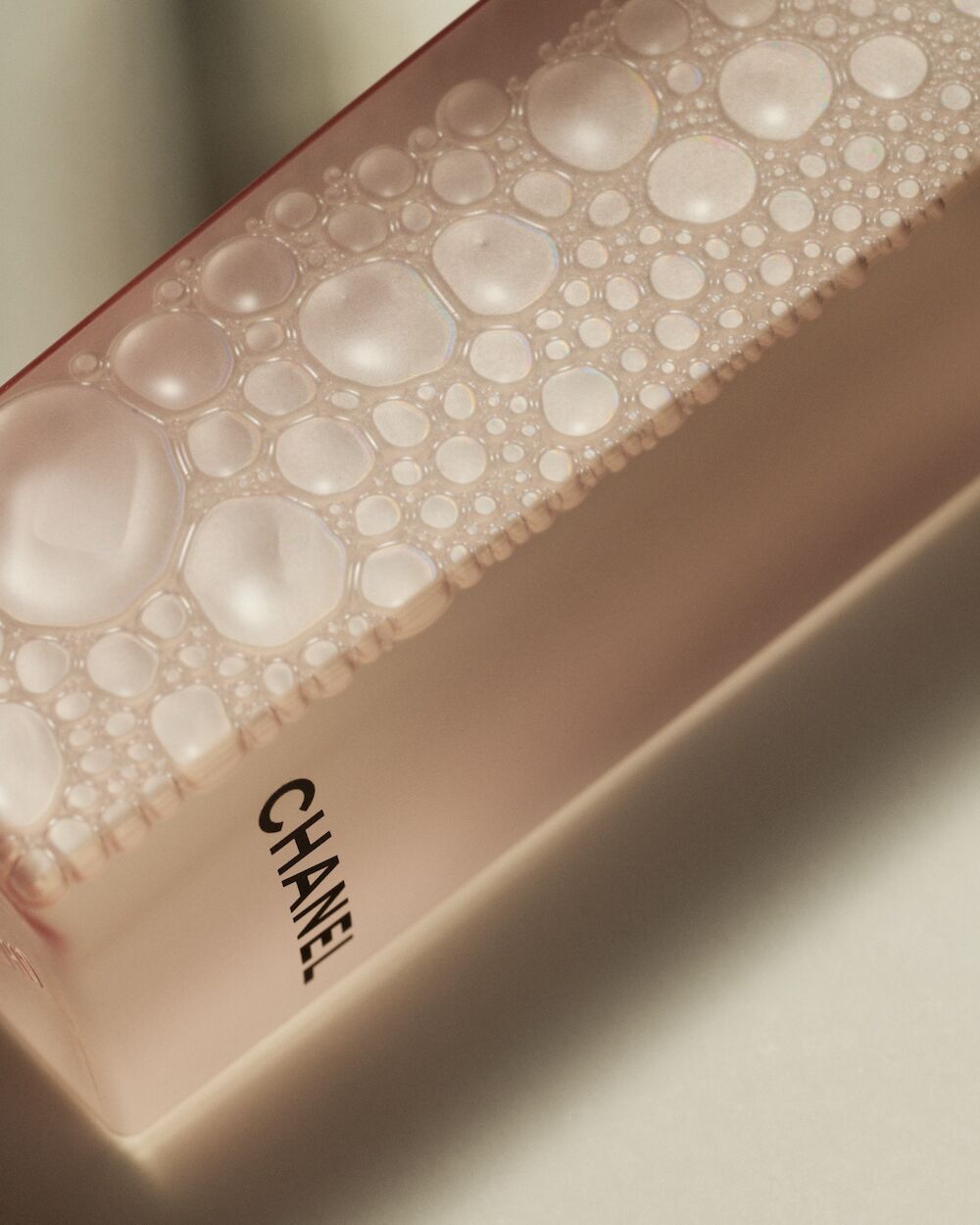 STEP 3: Exfoliate
Our skin undergoes a process of renewal every 28 days, when our cells naturally turnover to reveal fresh new layers beneath. From our mid-30s onwards, this cycle of rejuvenation slows down. A build-up of dead cells on the skin's surface can result in signs of ageing such as uneven texture, dehydration, fine lines and a generally lacklustre complexion. "Exfoliating as part of a DIY facial – as well as two to three times per week – keeps cells turning over, prevents congestion, refines, brightens and ensures the other products in your regime are absorbing properly," advises Melanie.
Her pick is the Le Gommage Anti-Pollution Exfoliating Gel, a silky-smooth gel-cream with a jelly-like texture and delightfully peachy hue. While there's been a migration in recent years to chemical exfoliators (AHAs, BHAs and PHAs), there's something inherently satisfying about a physical exfoliator, which, as the name suggests, relies on manual action to lightly buff away dead cells.
Natural-origin pink jojoba microbeads gently sweep the skin's surface. Remarkably fine and delicate in structure, these microbeads practically melt into the skin, making for an exfoliator that feels more soothing than sloughing.
Apply all over the face, avoiding the eye area, and work into the skin with small, circular motions beginning at the base of the jaw and moving upwards over the cheeks and forehead. Spend time on the T-zone (an area prone to excess oil and congestion) and finish by paying special attention to the lip contour and chin. Rinse skin with warm water and pat dry.
"Le Gommage Anti-Pollution Exfoliating Gel is a gentle and effective exfoliant that shields against free radical damage while buffing and polishing the complexion. It contains violet micro-algae, which is great for oxygenating dull and asphyxiated skins; something we're all more prone to thanks to central heating."
STEP 4: Massage
Facial massage dates back to as early as the 1500s but has risen rapidly in popularity more recently thanks to addictive Instagram reels depicting cheeks being sculpted, foreheads being rollered and nasolabial folds being kneaded. And with good reason; facial massage can instantly revitalise, detox and uplift. Whether using quartz crystal Gua Sha (its heritage deeply embedded in traditional East Asian medicine), microcurrent devices bordering on sci-fi or fingertips au naturel, massage is the perfect at-home facial inclusion for relaxation and results both.
One of the main focuses of the facial massage is lymphatic drainage. Our lymph nodes are located on our necks and behind our ears. When these areas are blocked with excess fluid, our complexion can become puffy and dull. "Massage is the best way to relieve tension, de-puff, sculpt and promote circulation, flooding the tissues with nutrients," Melanie observes.
Take a pea-sized amount of CHANEL's Huile de Jasmin Revitalising Facial Oil and gently rub between the fingertips to warm. Made almost entirely of naturally-derived ingredients, Huile de Jasmin Revitalising Facial Oil is refreshingly fragranced with its eponymous ingredient: a jasmine extract from Grasse, handpicked on the day that it blooms in fields exclusive to CHANEL. Starting at the base of your neck, use small circular motions to work the oil upwards towards the nose and then outwards to the cheeks and temples. According to Melanie, "focus on a firm consistent pressure, never dragging down on the skin but rather using upward and outward movements while working intuitively with the contours of your face and neck."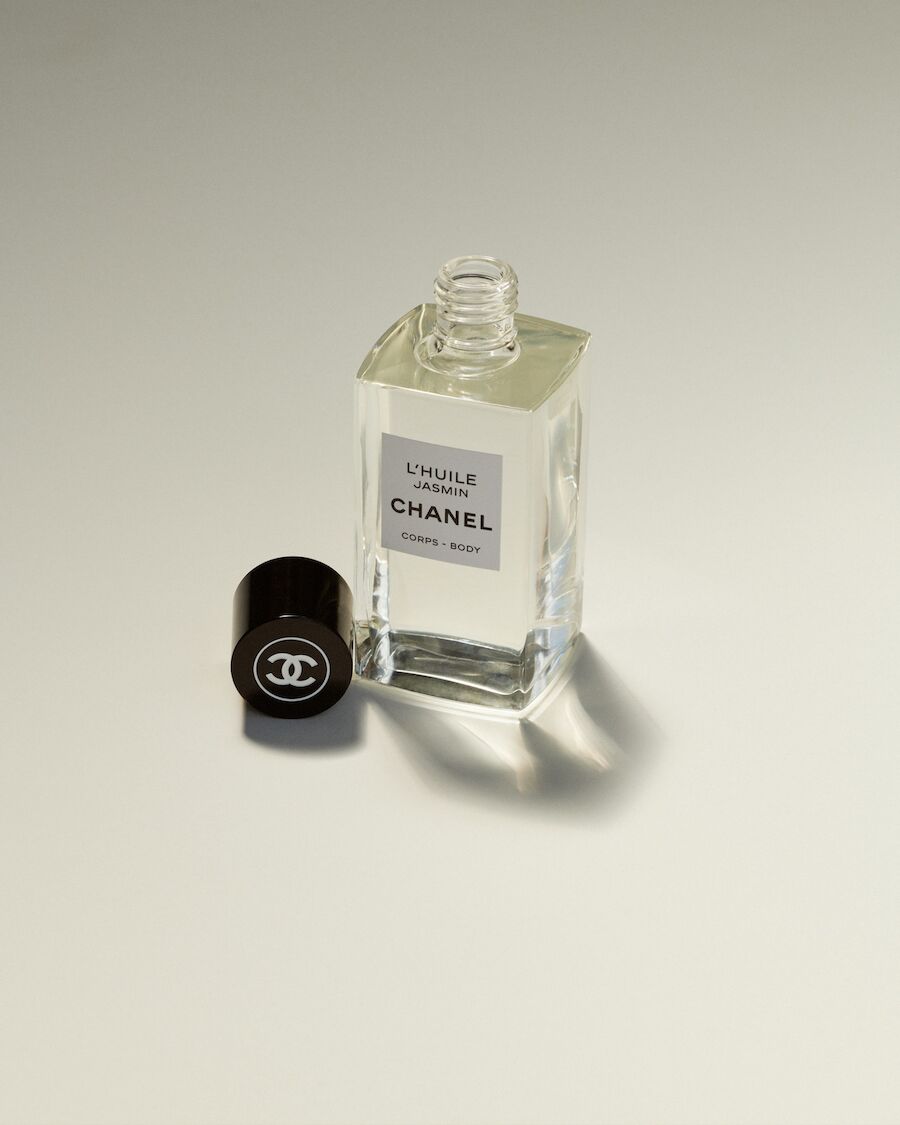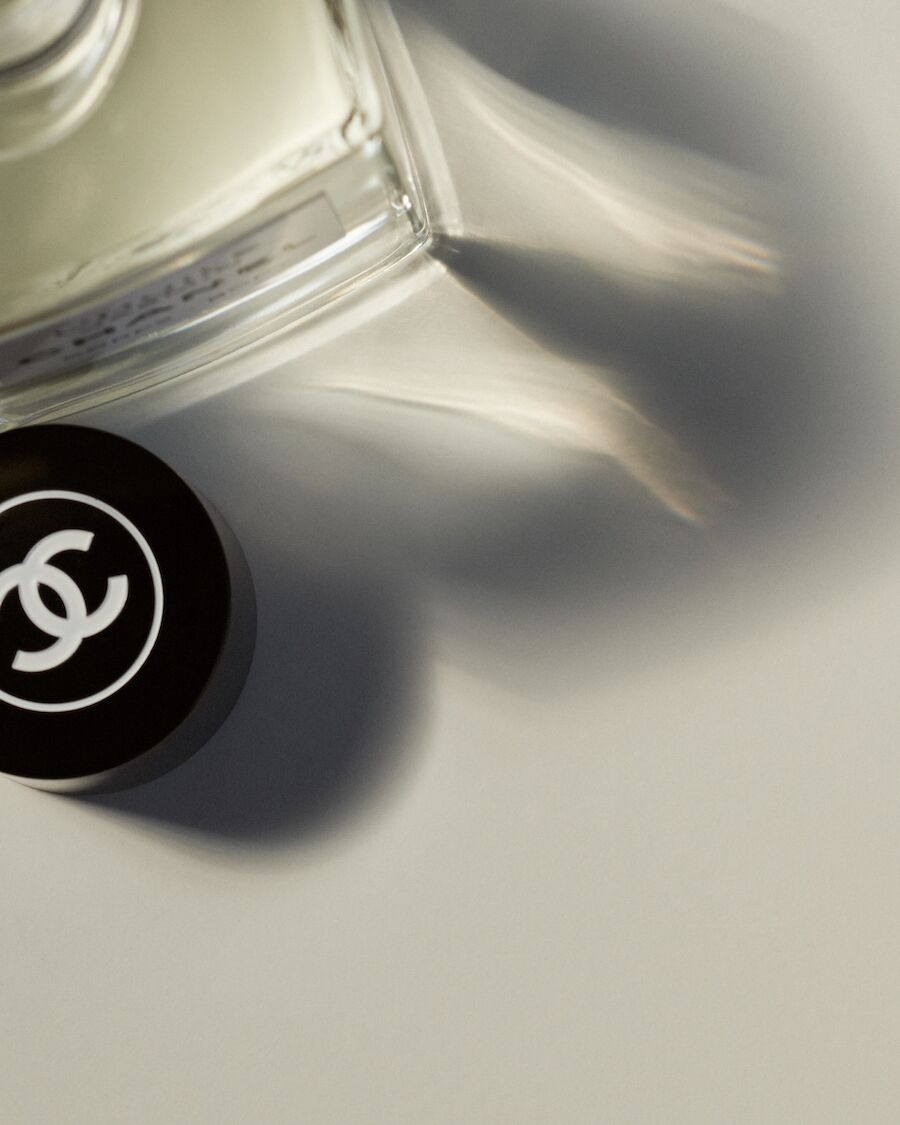 Don't forget the decolletage. As beauty editors are wont to remind, skincare should really start at the chest. "I always reach for a rich and restorative cream, like the Sublimage La Crème Corps et Décolleté, for my neck and décolleté. These areas harbour the most tension for me – especially while working from home – and I need a formula that is both deeply nourishing and allows for a firm massage without tugging at the skin," Melanie shares.
An extension of CHANEL's much-loved Sublimage facial cream, the body and neck version is rich, decadent and revitalising. The antioxidant qualities of vanilla planifolia combine with light-reflecting micropearls to leave the skin velvet-soft and subtly illuminated. Warm a small amount in the hands, then use those same upward and outward movements to massage generously over the decolletage.
STEP 5: Mask
The mask is, inarguably, the at-home facial's pièce de résistance. Face masks work by permeating the pores, absorbing active ingredients deep into the layers of the skin. Along with imbuing a sense of calm, a good mask will yield immediate aesthetic results. "Masking is a great way to infuse the skin with vital nutrients, with very little effort. I often like to apply a cream mask before soaking in the bath, or while I'm catching up on emails before a Zoom meeting. Focus on what your skin needs at that moment," Melanie recommends.
After exfoliating, it can feel wonderfully comforting to slather on a thick, rich, cream mask to deeply replenish the skin. Melanie loves the Hydra Beauty Camellia Repair Mask for this very purpose. Hero ingredient white camellia (this long standing motif of the CHANEL house, which appears on everything from bags to brooches, is also the star of the whole Hydra range) has impressive hydrating properties, acting at cellular level to trap water into the skin. "Multifunctional products are key to my regime and treatments at home," says Melanie. "The Hydra Beauty Camellia Repair Mask is great for plumping, quenching and soothing."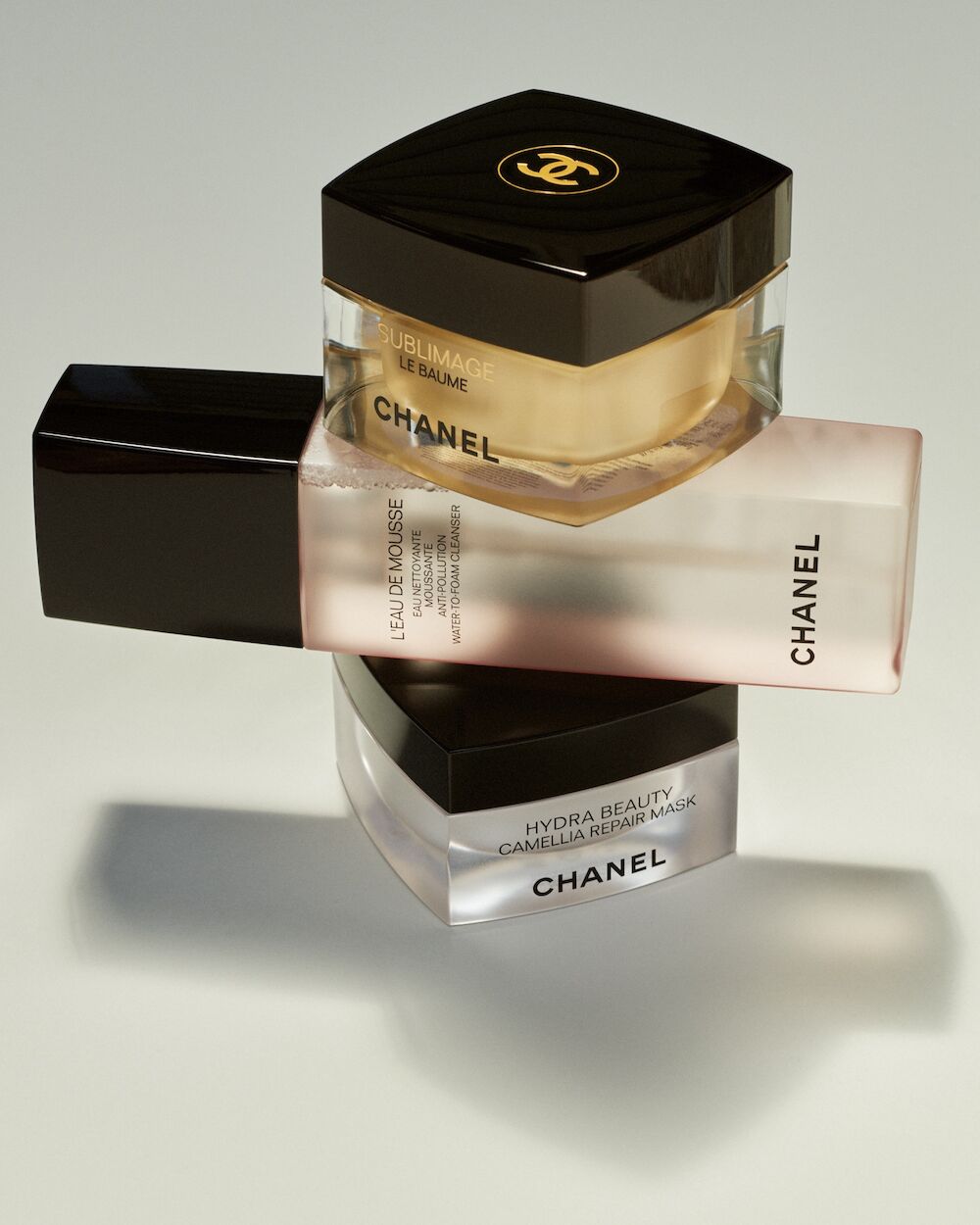 With a balm-like texture, the Hydra Beauty Camellia Repair Mask spreads effortlessly to cushion the skin with moisture. There are a few different ways to use it in your facial. If you're looking for an immediate burst of radiance, liberally apply a thick layer using the fingertips or an applicator brush. Leave on for 10 minutes before rinsing with warm water. If you're seeking comfort (ideal for dry skin types, or those experiencing tightness), apply a thin layer onto the face, leave on for 10 minutes and then massage any excess product into the skin (do not rinse).
STEP 6: Finishing Products
Melanie suggests finishing your facial with products that will "lock in actives, comfort and protect your complexion." It's really up to you as to how extra, or conservative, you want to be here, but a hydrating mist (calms and refreshes), an antioxidant serum (delivers high doses of actives to target specific concerns) and a hydrating cream (reduces transepidermal water loss) are all worthy inclusions.
Dense yet decadent, Sublimage Le Baume is superpowered with rich, oil-based ingredients derived from vanilla planifolia. It makes for an incredibly hydrating face treatment when warmed between the palms and gently pressed into the forehead and cheeks, the temples and cheekbones, the chin and, to finish, the jawline.
"At night, formulas that are a little richer will continue to nourish your skin as you sleep. In the mornings, don't forget SPF – even if you're working from home," she insists.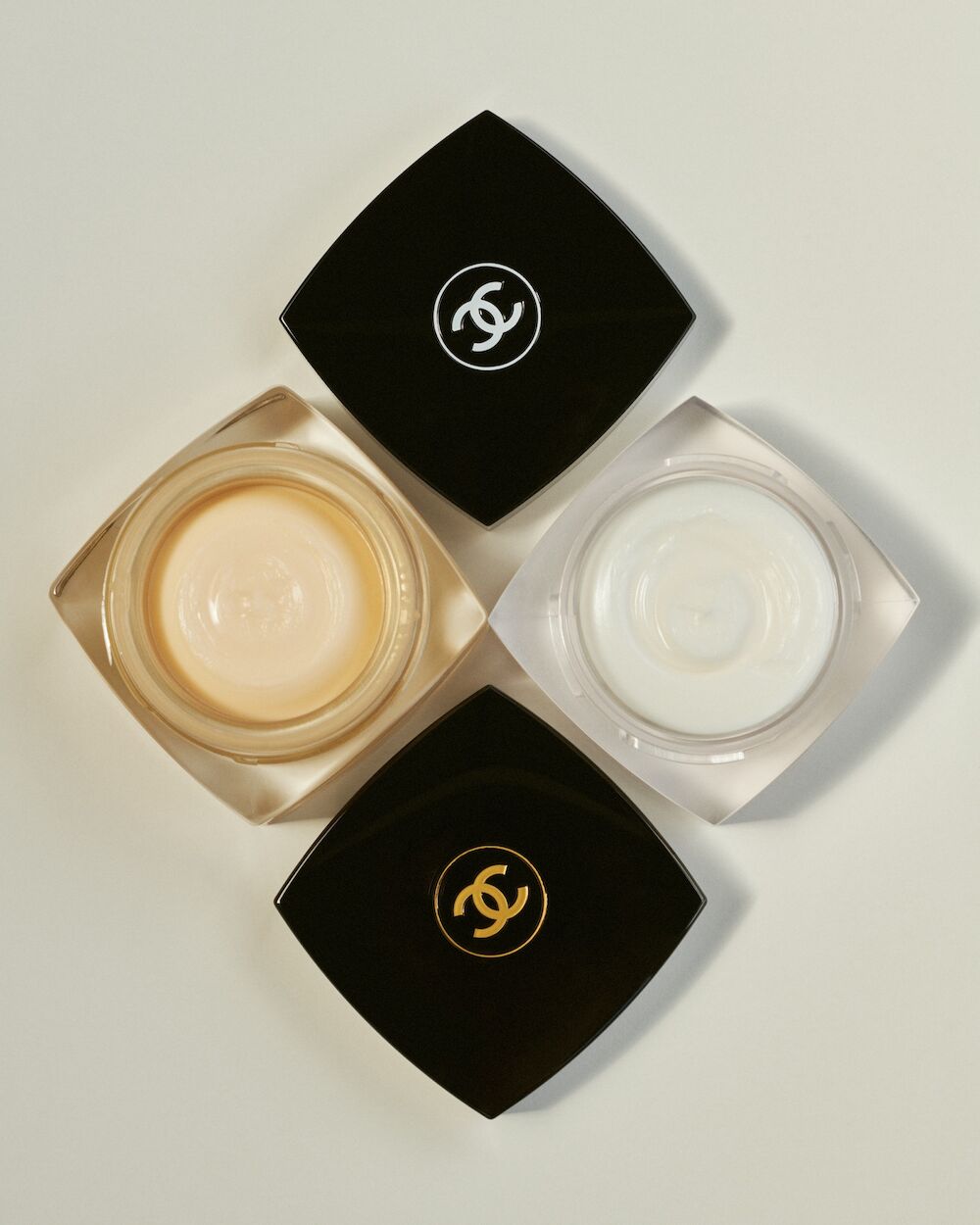 "I love something occlusive after a DIY facial to support regeneration and repair. I like to apply a fine layer of the Sublimage Le Baume when my skin is feeling particularly dry and devitalised and in need of a restorative treatment."
So there you have it, Melanie Grant's ultimate at-home facial using a line-up of CHANEL products that feel incredible in the moment, leave the skin better than it was before and, it would be remiss not to mention, make elegant additions to any top shelf. Now, to light a candle, slip into something more comfortable and switch that phone to flight mode.