Inspired by free-spirited women and based on a groundbreaking formula, CHANEL No.5 is enjoying 100 years of celebrity as the doyenne of the fragrance world. INPRINT asked artist MIKKAPEDIA to explore the famous form of the boldly minimalist bottle.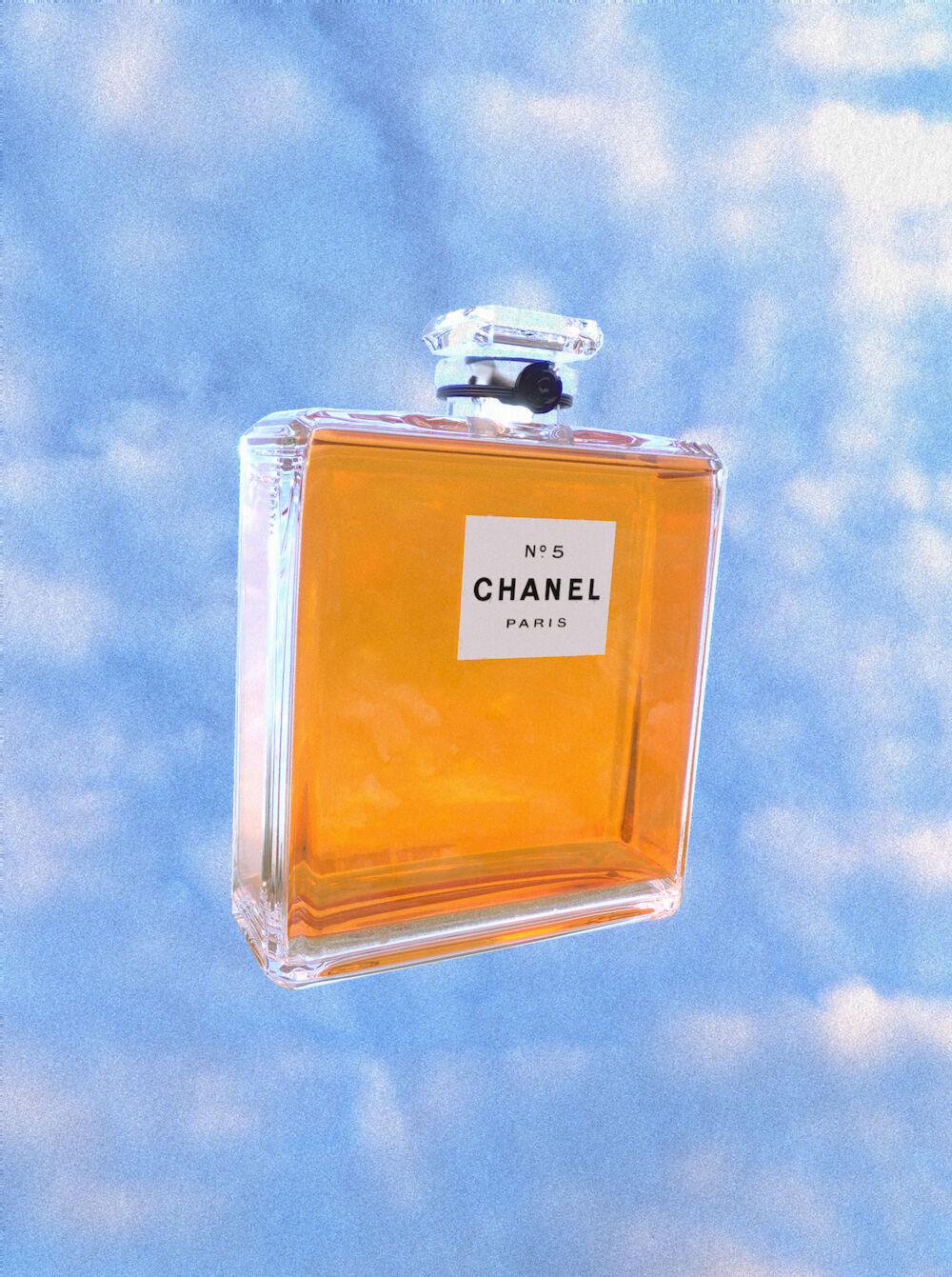 What do Teflon, Coca-Cola, penicillin, Vaseline and Chanel No.5 have in common? All of these game-changing inventions were discovered by accident and yet it's hard to imagine a world without them.
Chanel No.5 this year celebrates a century since a perfumer mistakenly combined fragrant oils with an overdose of organic compounds known as aldehydes, resulting in a perfume that is to this day the world's most popular. This laboratory mishap, however, is only one part of an epic story that is still being written.
In 1921, Gabrielle "Coco" Chanel wanted to launch a perfume that did away with the divisions between 'respectable' fragrances—simple, floral, polite—and those associated with women considered to be of disrepute, or 'demimondes'—loud, musky and carnal. Another giant leap forward was the intention to blur the rigid gender lines prevailing at the time by introducing a crisp soapiness that had never been assigned to women's perfume before, echoing a hallmark of Chanel's style vernacular, which applied men's tailoring techniques to womenswear.
The perfumer responsible for the concoction was Ernest Beaux, an exiled Russian whose talents were once leant upon by the court of the Tsar. Beaux was introduced to Chanel by her lover at the time, the Grand Duke Dmitri Pavlovich Romanov of Russia, a man who himself was exiled for his role in the assassination of Grigori Rasputin. Would you expect any less?
The Roaring Twenties gave rise to much social upheaval across the world. The US and the UK finally joined countries such as Australia and New Zealand in allowing women's suffrage, and a new air of sexual freedom for young women took hold. Personified by the 'flapper', it was becoming more acceptable for women to stay out late, imbibe and court suitors without the same stigmas experienced by previous generations. Chanel wanted to make a fragrance for these liberalised ladies.
Almost as important as the amber elixir was the bottle housing it. Up until No.5, perfume bottles tended to be highly ornate, like the crystalware you might see in a cabinet on a palatial tour. Chanel decided to buck convention once again and present her signature fragrance in a minimalist flacon of thin glass, not dissimilar to those found in apothecaries at the time. It's said that Chanel was inspired by the simple design of men's toiletries, specifically the ones used by another flame, aristocratic polo player Arthur "Boy" Capel, and the idea of it being pocketable and portable, like a hip flask. The bevelled rectangular flacon has undergone only slight design tweaks in its lifetime, such as the enlargement of the stopper in 1970, and is an icon in its own right—an exercise in understated elegance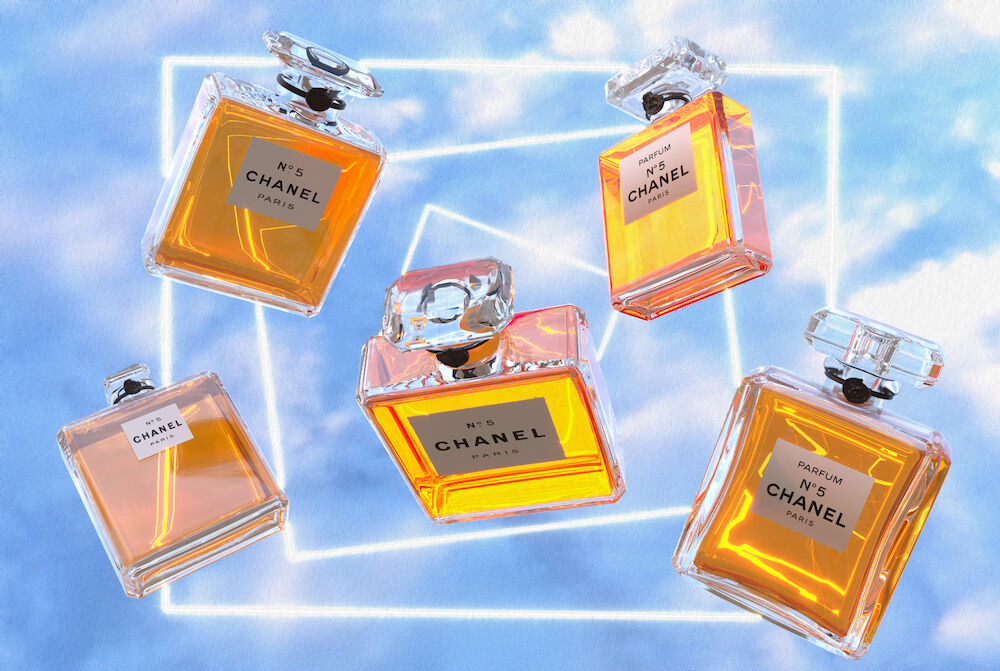 INPRINT asked the artist Mikkapedia to interpret the evolution of the famous flacon, the results of which you can see on these pages. "I wanted to have each iteration of the iconic bottle, representing a timeline of progress," he says. "While the changing bottles demonstrate design progression, it is only minor refinement; the perfume and its bottle have been iconic since the very beginning. And to display this icon status I placed the bottles among the clouds where they can be celebrated and adored. I used the shape of the label as a framing device to bring cohesion into the work.
"Even the box the bottle comes in has been feted for its classic design, with one in the permanent collection of the Museum of Modern Art in New York. In fact, the US played a crucial role in ensuring the success of No.5, exemplifying the transatlantic conversations on fashion and beauty. The American postwar boom saw an explosion of middle-class buying power and nearly every woman wanted a piece of the Parisian glamour that No.5 represented. The perfume was even sold in US military commissaries for soldiers' loved ones to delight in back home.
It was the ultimate American pinup girl, Marilyn Monroe, who became No.5's most famous patron. Though never formally engaged for her services, Monroe famously declared that Chanel No.5 was all she wore to bed. She was also photographed with the perfume on her nightstand, making what was already a bestseller even more covetable.
Chanel's knack for enlisting some of the world's most alluring women to represent No.5 has helped to maintain its relevance and mystique through the decades. These include Suzy Parker, Ali MacGraw, Candice Bergen, Jean Shrimpton, Carole Bouquet, Audrey Tatou, Gisele Bündchen and its current face, the magnetic Marion Cotillard.
Catherine Deneuve is one of the most iconic ambassadors, embodying the almost mythical kind of French sensuality that men found hypnotic and many women wished to emulate. In a series of television spots that aired in the 1970s, Deneuve waxes lyrical on romance, seduction and femininity, reciting scripts Don Draper would be proud of with lines such as: "You don't have to ask for it—he knows what you want." Indeed, No.5 was the first perfume to be advertised on television, and the fragrance continued to run parallel with the ascent of mass media through to the age of the internet.
There may be no greater example of No.5 crossing the threshold of cultural phenomenon than the depiction of the bottle by Andy Warhol in 1985, suggesting a ubiquity on par with the humble Campbell's Soup can.
Australia etched itself into the Chanel No.5 story in 2004 when Baz Luhrmann directed No.5 the Film in what was then an innovative ad campaign that blurred the lines between commerce and cinema. Walking the path of image-makers such as Richard Avedon, Helmut Newton, Ridley Scott and Luc Besson, Luhrmann's work for the legendary scent further elevated the status of No.5 with the help of Nicole Kidman, who reprised elements of her role in Moulin Rouge for the commercial. The three-minute short film is still lauded as a benchmark in advertising.
It's quite fitting that we are yet to discuss the scent itself, because the folkloric history of No.5 is a key part of how we perceive the perfume. That said, a fragrance would not endure for a century were it not for the juice inside the bottle. So what does it smell like?
Simply put, it smells like perfume. It smells like the perfume. Its scent could easily replace any written definition of perfume—no other fragrance can truly lay claim to that. Chanel No.5 has an uncanny ability to be at once reminiscent of everything and yet nothing else. Whether it be the elusive memories of early childhood or the fact that every genre of scented product has tried but failed to replicate its composition of more than 80 ingredients, No.5 is a smell you know.
Ylang-ylang, neroli, lemon and bergamot open No.5 simultaneously with a sweet, powdery and pungent bouquet of jasmine, May rose, lily of the valley, iris and orris root. These all sit on a comforting bed of sandalwood, musk, vanilla, amber and patchouli. It's these base notes that provide the exquisite dry-down, lingering on the skin like the morning after a fabulous evening.
And what of these aldehydes that set No.5 apart all those years ago? They dance over the bouquet the way sparkles of sunlight catch ripples in the sea. They're the little shards that cut through the composition and changed perfumery forever.
Fragrances with a similar structure haven't been able to replicate the magic of Chanel No.5 because of the quality of the ingredients. The jasmine and May rose—a flower that only blooms for three weeks in spring—are sourced from the French town of Grasse. The distinct ylang ylang note is harvested in Madagascar and Mayotte. The closely guarded formula has been kept a secret with only minor alterations in the past hundred years, such as substituting animal musk and civet oil with synthetic alternatives.
The parfum and eau de toilette are the formulations created by Ernest Beaux still available today. Long-serving Chanel house perfumer Jacques Polge created an eau de parfum in 1986 that adds an exclamation point to the original with a more linear progression. Polge's son Olivier, Chanel's current perfumer, created in 2016 Chanel No.5 L'Eau—a lighter, more contemporary interpretation that remains faithful to the original's DNA.
The reason No.5 has stood the test of time is because it connects not to an age but to a sensibility. The spark that liberated young women in the 1920s is now a raging fire and that spirit of independence, whereby women can take control of their sexuality, shall always be.
What may now appear to be ultra-feminine and perhaps even conservative was very much an earthquake that shifted boundaries around sex and the interplay between male and female symbolism. We might take for granted the freedom of identity and expression, but the groundwork for what we enjoy today was laid a long time ago.
It's safe to say that after 100 years, No.5 is no longer revolutionary—it has had its moment as a provocateuse. The purpose of dabbing those precious drops is not to be daring or original, unless, perhaps, you are a man who acknowledges that fragrance has no gender. Instead, to wear No.5 is to find kinship with women throughout time who have revelled in a sort of sensual revolution themselves. It is to know that No.5 has been a guest at every grand and historic occasion over the past century.In that sense, reserving a place on the shelf for Chanel No.5 is like owning a pair of 501s, a little black dress or a non-stick frypan: essential.