Romance Was Born isn't so much a label as a rolling art project, propelled by the ever curious and collaborative duo of Anna Plunkett and Luke Sales. Here, as they prepare to show their upcycled bridal collection, an edit of their extraordinary archive at the Powerhouse Museum proves that while mere fashion may fade, imagination is timeless.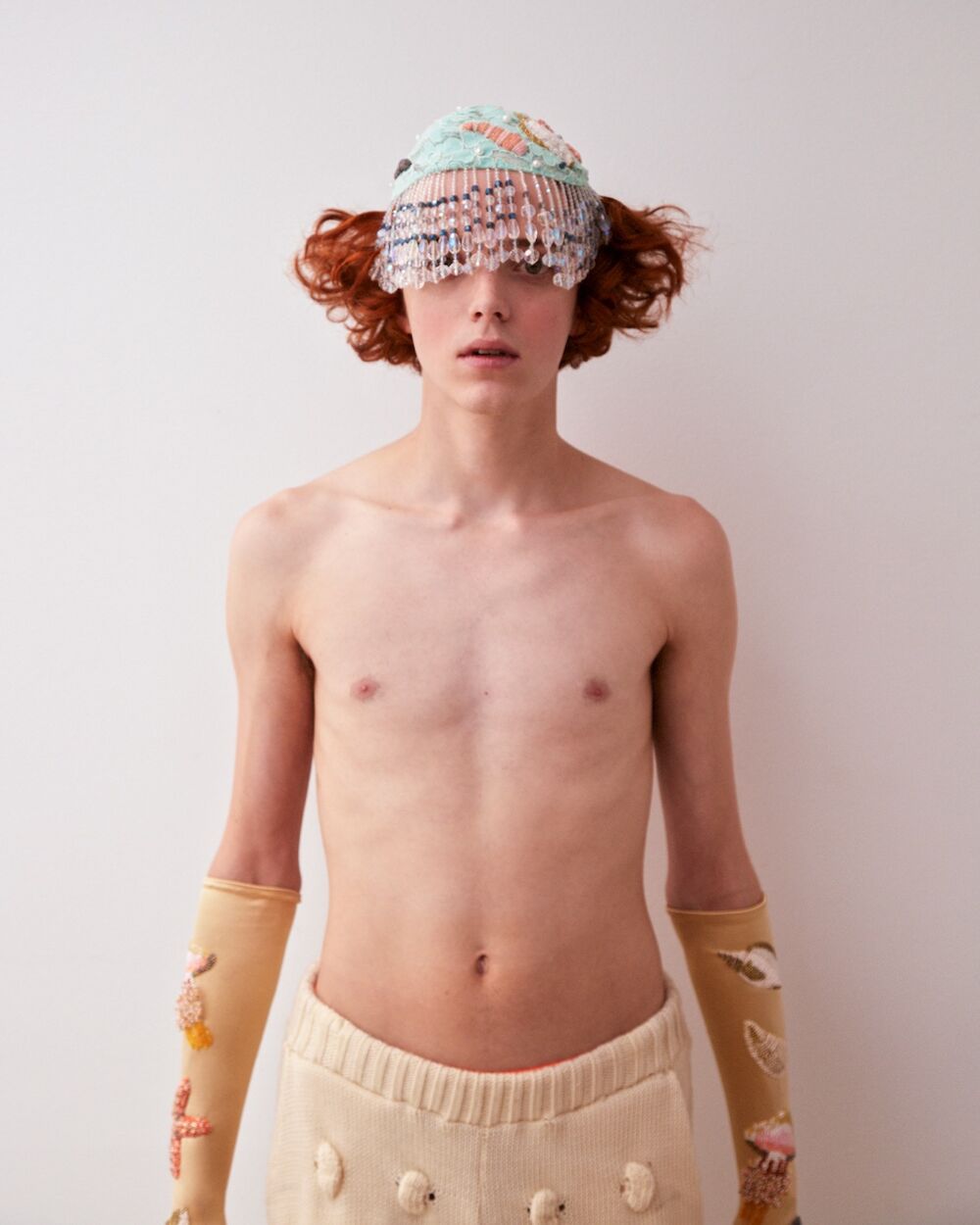 Without Anna Plunkett and Luke Sales, the Australian fashion landscape in the 21st century wouldn't have been the same. Children of the 1980s and bowerbirds the pair of them, the duo behind Romance Was Born have sustained a legacy of kitsch and craft down under like few other practitioners, embracing deep national storytelling alongside contemporary art and humorous pop cultural references.
Plunkett and Sales are artists who chose fashion as their medium and went on to apply all manner of art and craft techniques to garments that wowed Australia's cultural elite. Their creations resonated much further afield thanks to the theatre of their practice, a drama mingled with their unabashed celebration of Australiana that taps into a playful nostalgia for the Australian dream, from its wildlife to its geology and local folklore.
After poring over their archives in the underbelly of Sydney's Powerhouse Museum for INPRINT, the fil rouge of high glamour and intricate craft in their oeuvre felt as important to celebrate as their sense of kitsch and larrikin humour. Their designs are not only vehicles for kaleidoscopic colour and surface experimentation, but also conjure up intrinsic links with the far reaches of fashion history, from the cocooning shapes of Paul Poiret's Paris to the decadence of Ungaro and all manner of frivolous flirtations between.
In these images we celebrate more than a decade of archival Romance Was Born creations stripped back and tangible, some imagined in partnership with artists and friends, others the pure fruits of their vivid imaginations. Romance re-born, if you will.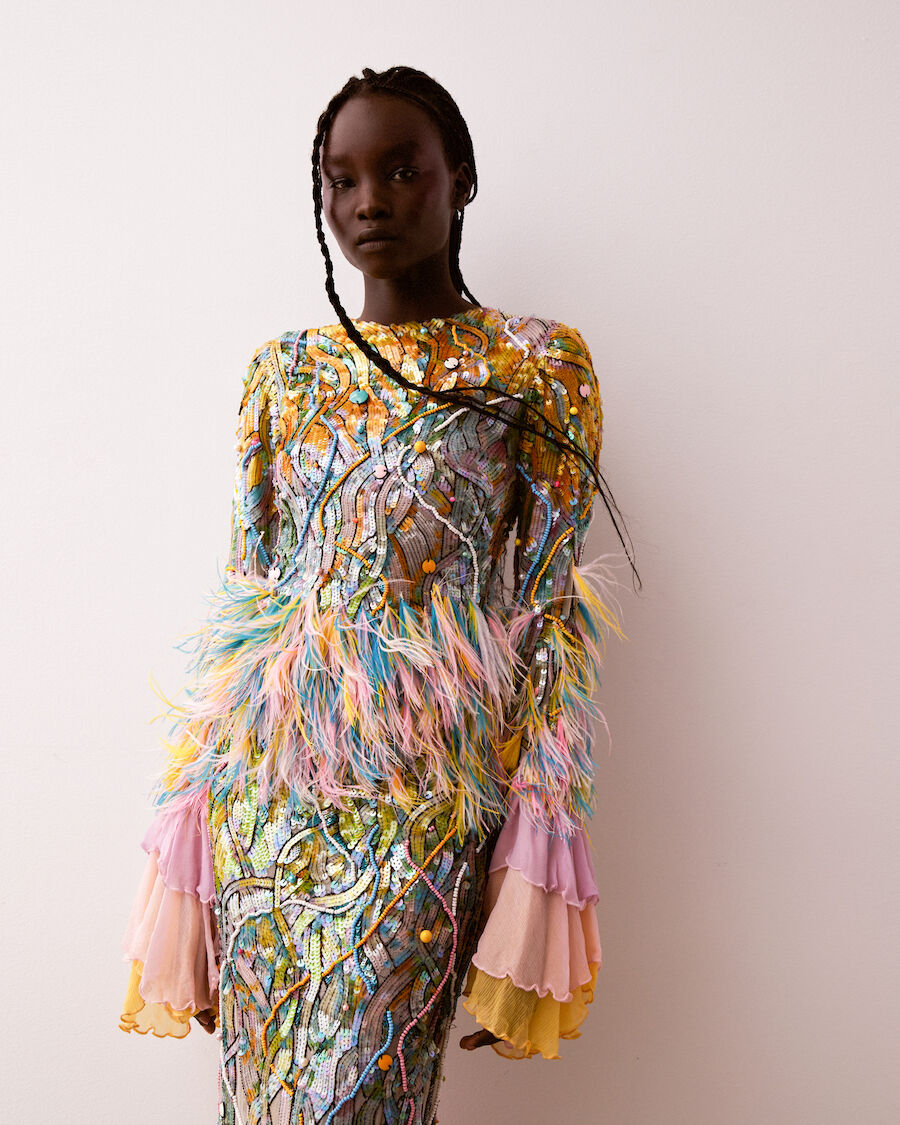 How did you start to integrate Australian artists into the project that is Romance Was Born?
Anna Plunkett (AP): I think from the get-go we were always very interested in Australian art, but then we saw Del Kathryn [Barton] at Ray Hughes Gallery [in Surry Hills, Sydney], around the corner from my house. I think we went to her first solo show.
Luke Sales (LS): I think it was her first show out of college, around 2001, and it just blew our minds. I guess it really suited our vibe and resonated and made sense with us. We always say we want everything to have a purpose. We started out by referencing a lot of Australiana, so working with Australian artists was the next step. It really sealed the deal.
It was a genuine link to the cultural conversation. Something else I love about your work is you are unabashed fans of the wider fashion world as well. And I think that has always come through. What were the things that made you interested in this more flamboyant, excessive idea of dressing?
AP: For us, growing up in the '80s, it started with music. I was just so into music and watching Video Hitsand Rage. I would stay up until 4am [watching]—I would tape Rageif someone was guest programming. I have such vivid memories of watching Michael Jackson with my brothers and seeing Madonna for the first time on The Early Showin her Gaultier costumes.
LS: It was a huge thing, discovering Gaultier.
AP: But without the music, we wouldn't have known about it. That was our link to fashion.
LS: I think another reason we do this as opposed to being a painter or a sculptor or whatever it is, is because we do have a love of fashion. So I guess that's the way it went. My creativity could have gone in any direction, same with Anna's.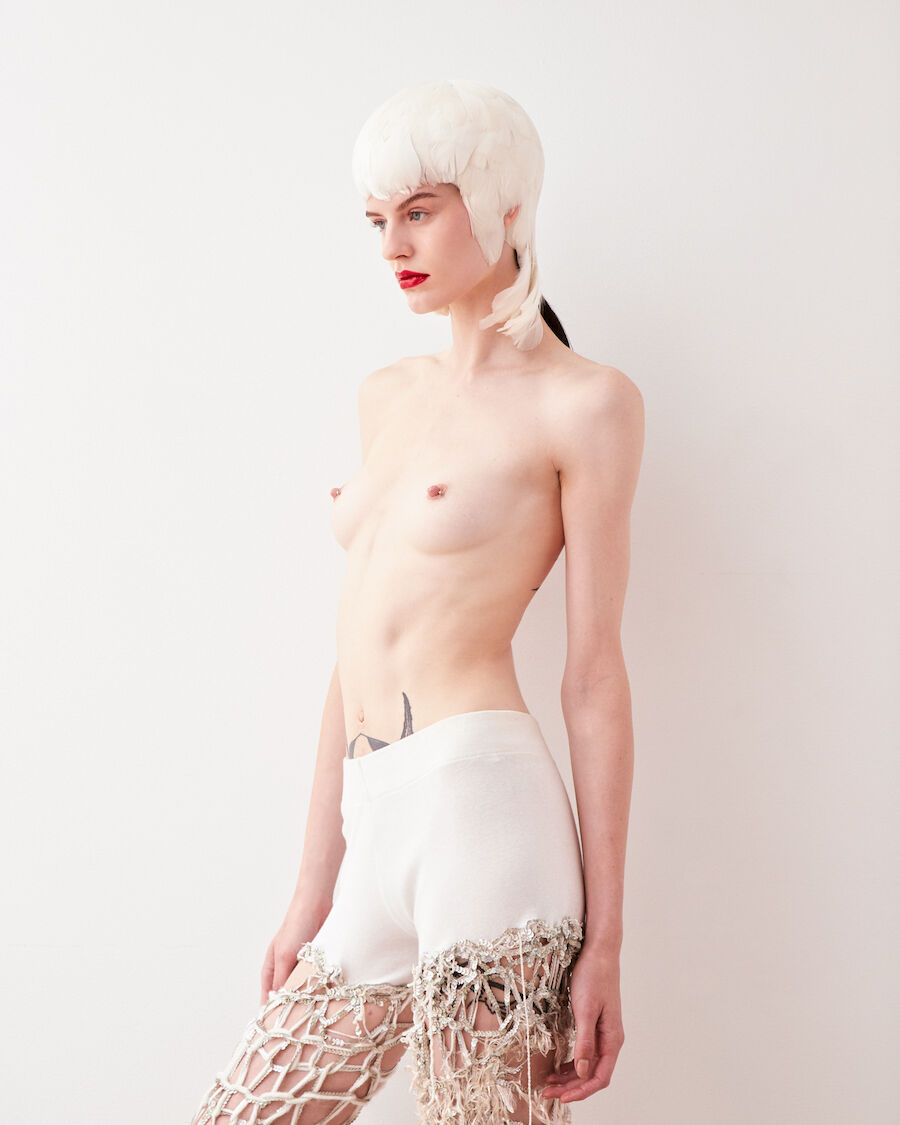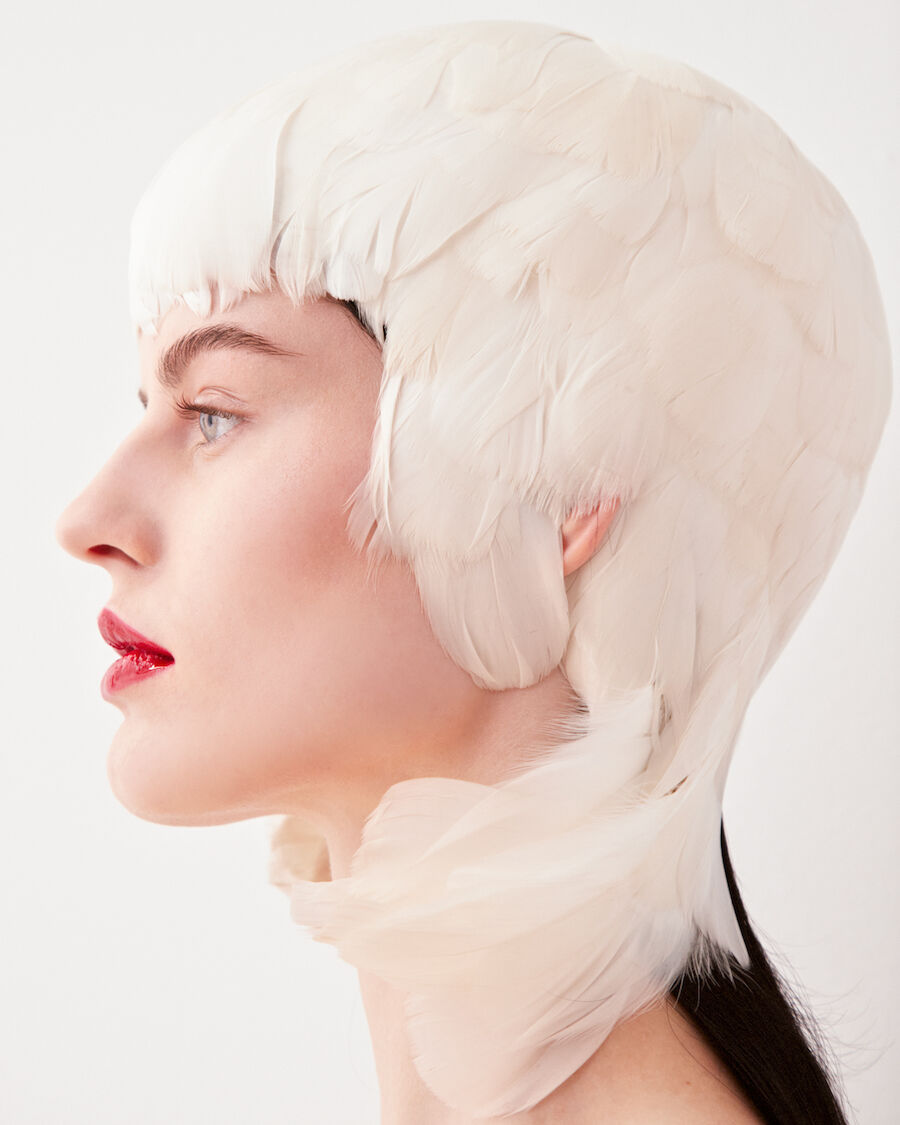 Were there any trips you took together, any experiences that maybe pushed you towards certain types of silhouettes? Something that influenced your designs outside of Australia?
AP: Yeah, in 2005 we went to Italy for the ITS [International Talent Support] competition in Trieste. We'd never been to Europe before and we were just out of college, fresh as, and it just blew our minds. We just couldn't comprehend the level and number of things there were to explore.
LS: We were the first Australians to be chosen for the competition. And I guess everyone in Australia was saying that we're crazy and that what we were doing was so far out, but when we got there and saw everyone else's collections, they were waycrazier! It helped us to not question what we were doing anymore, when you can see the heights of where fashion can really go. After that we got offered jobs at Galliano, and we went to Paris and saw the workrooms and the way it was all operating and the scale of everything. But at the time we were so adamant about doing our own thing, so it gave us that kind of blind ambition.
After the collaboration with Del Kathryn Barton put you on the map in the art world in Australia, how did you go about choosing other artists?
LS: After we worked with Del we worked with an artist called Nell, and they were really good friends. Del had introduced us to Nell, and Nell introduced us to other artists and galleries. I guess we see things and keep them in mind for if something's coming up or we want to do a collection later on. It's not really like, Oh, well, we're going to work with this artist this season just because we like them. They have to be the right fit for the collection and what we're trying to say.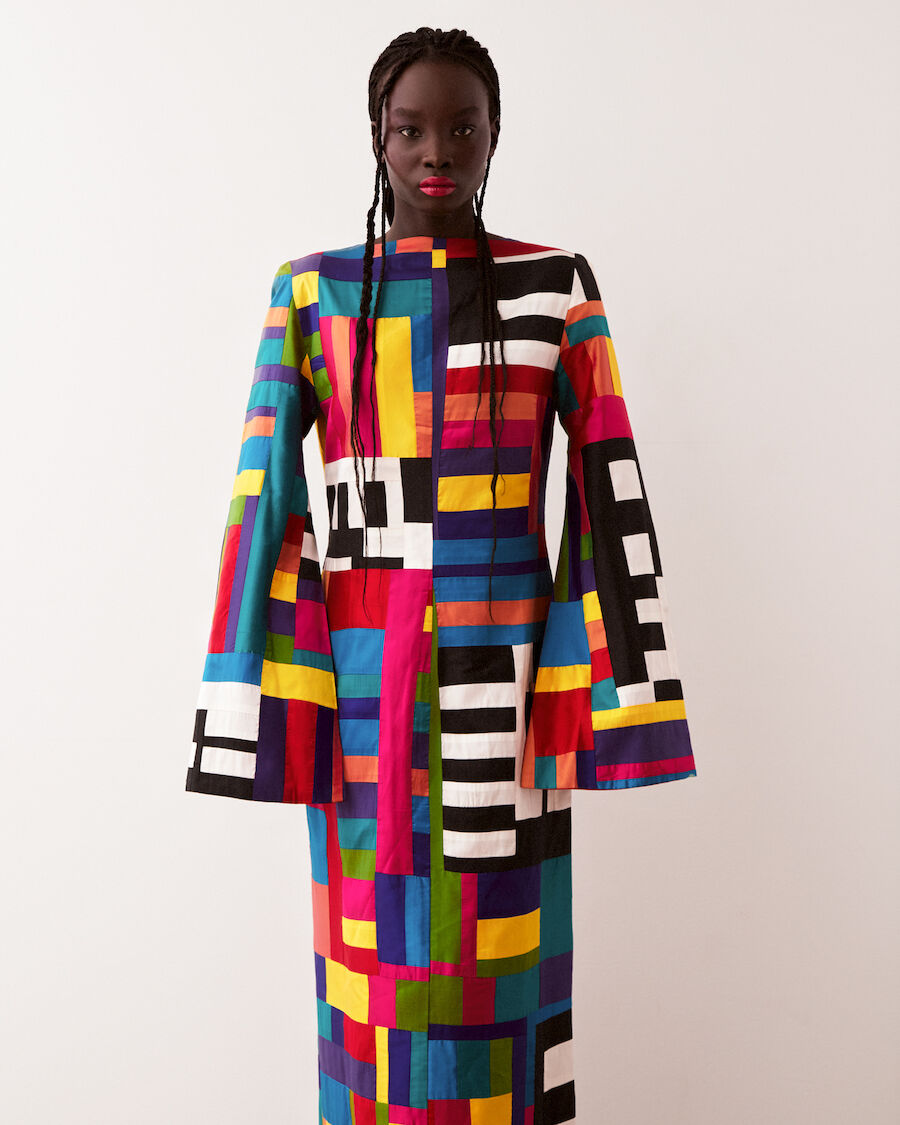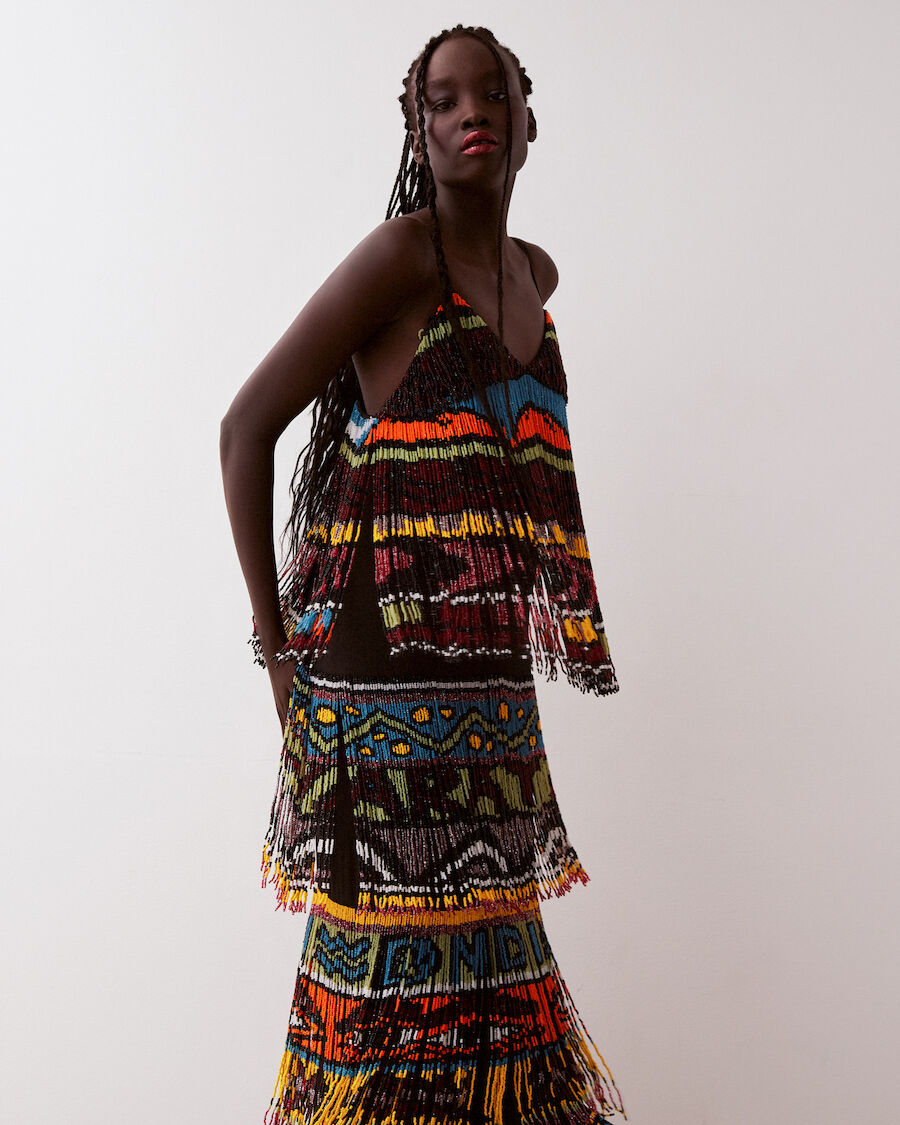 When you do tie in with these other makers, there's often an element of craft that becomes very important to the pieces. Many of your most spectacular designs involve heavy beading and really incredible use of natural materials and patchworks and lace. I'm curious as to how far you've gone into that material exploration and where it has led you.
LS: Our first few collections were made completely from found objects and scrap fabric, like an old jacket or a teddy and other old toys and stuff we had. It was like my collection and Anna's collection merged together. And then we started buying other things and we overdyed and pieced them together or would get my mum to crochet stuff to add on, or we would patch things together and hand-sew stuff together. So, I guess that's where our brand kind of started. It's what we know.
AP: For us, later on, it was kind of like working backwards, like discovering how a normal fabric would work! Like denim—we thought that was really funny to do something so pedestrian but understand what we could do with it.
LS: And then every season, we were always looking at new and different ways of working with textiles, like making our own lace, like when we found our beaders in India, who we still work with today. I still work with my mum to do crochet and patchworking. Stuff we did then, we still use now and then.
AP: We were always trying to find interesting fabrics, like we would go out to weird fabric shops in Cabramatta [in Western Sydney] together and buy things you couldn't find in the city.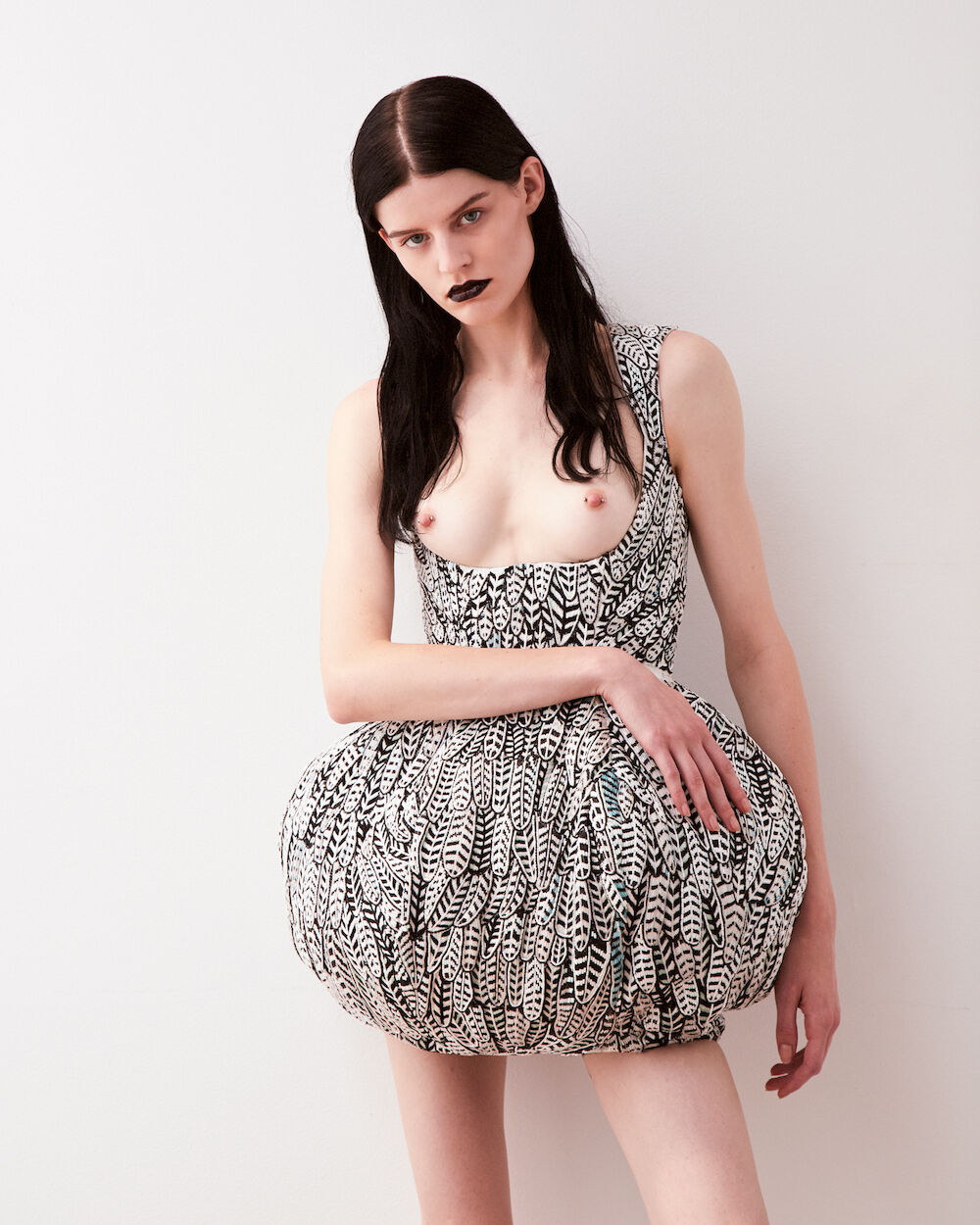 "When we started to do runway, that's when we went full-throttle. We'd make jokes about things but then be dead serious about pulling it off."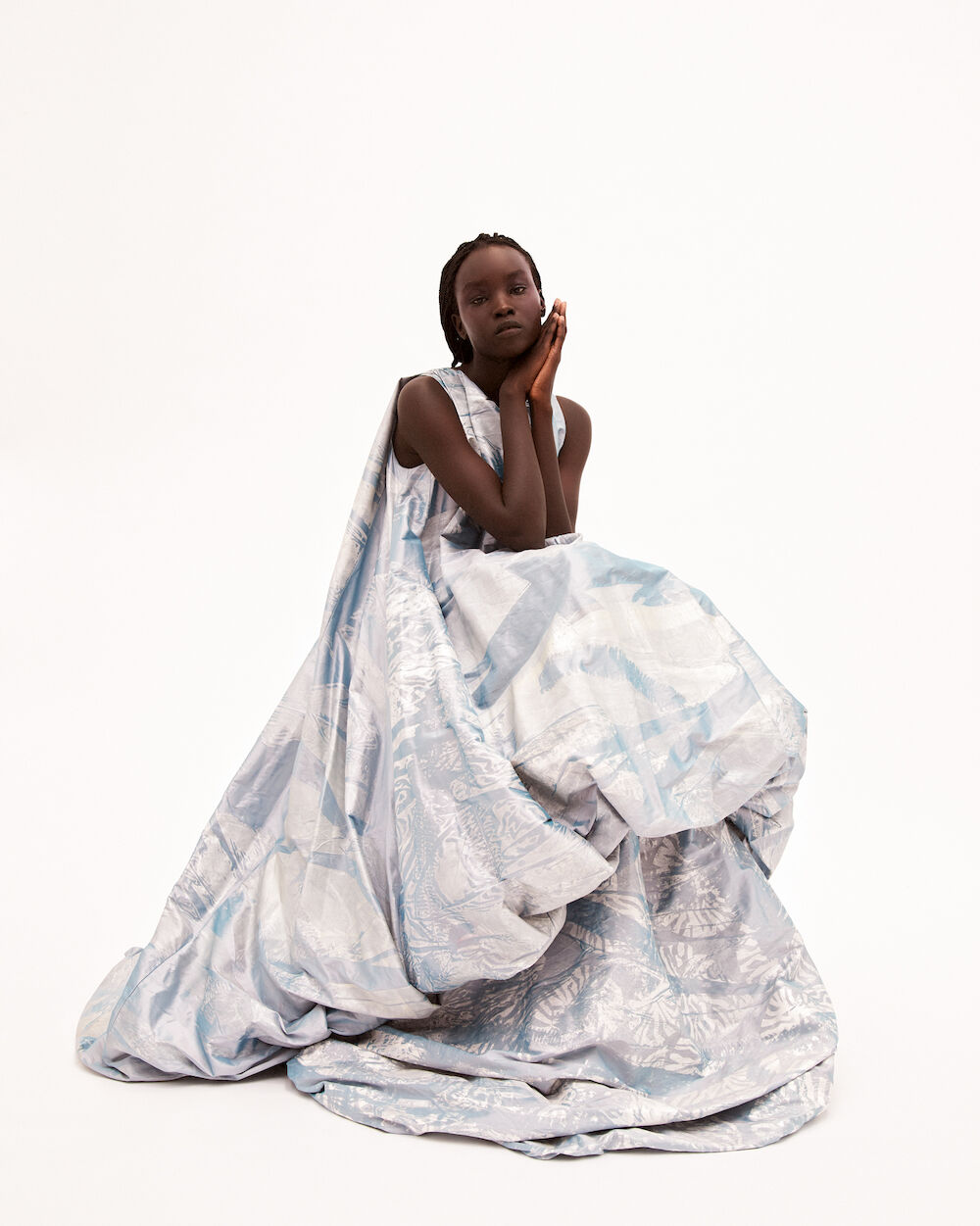 Luke, what about your mum, Janelle Porter? What's her story?
LS: She taught me how to sew. At one point she used to crochet, and she re-taught herself how to do it so she could help us because we were having a really hard time trying to find anyone who could make these crocheted feathers that we needed. And then I used to ask her to create patchwork for us. My mum did that rainbow dress with the Dinosaur Designs buttons [photographed here]. Linda Jackson actually taught her how to do that patchworking. She called it "painting with fabric".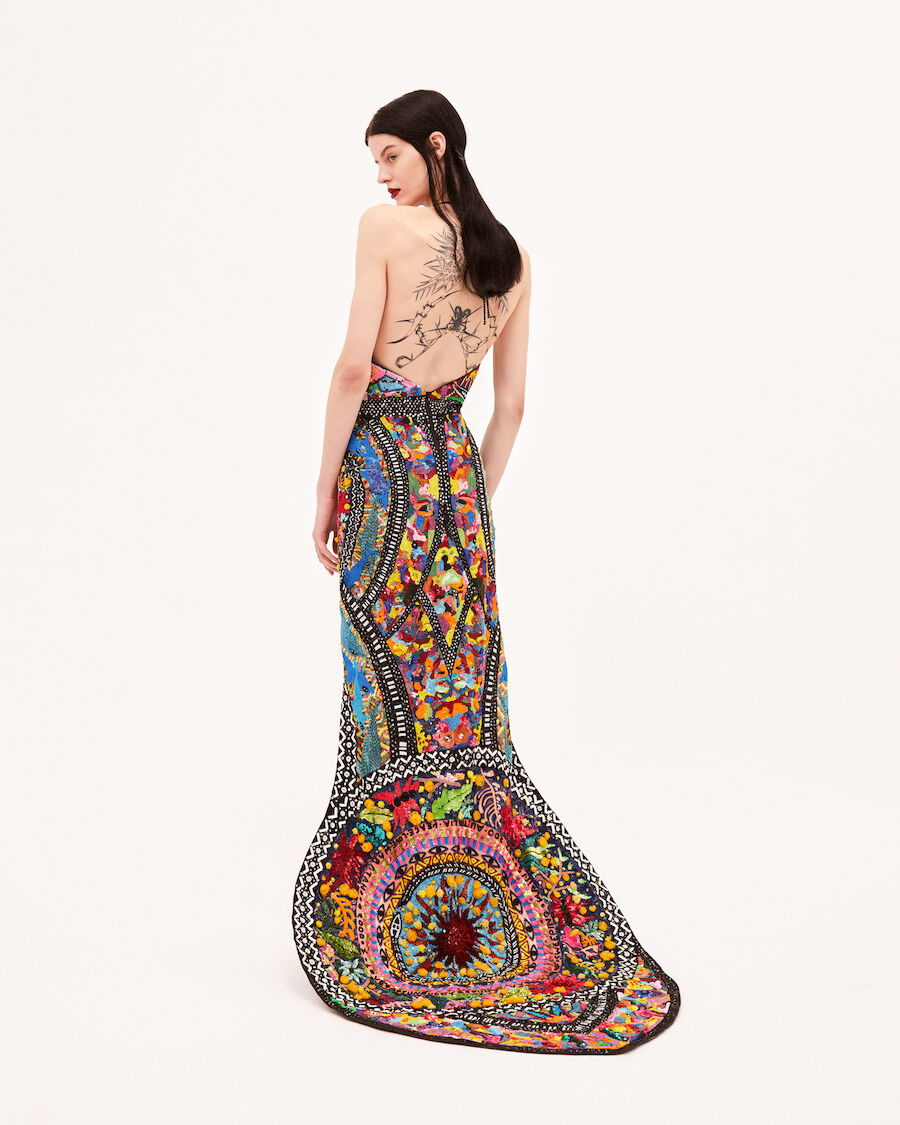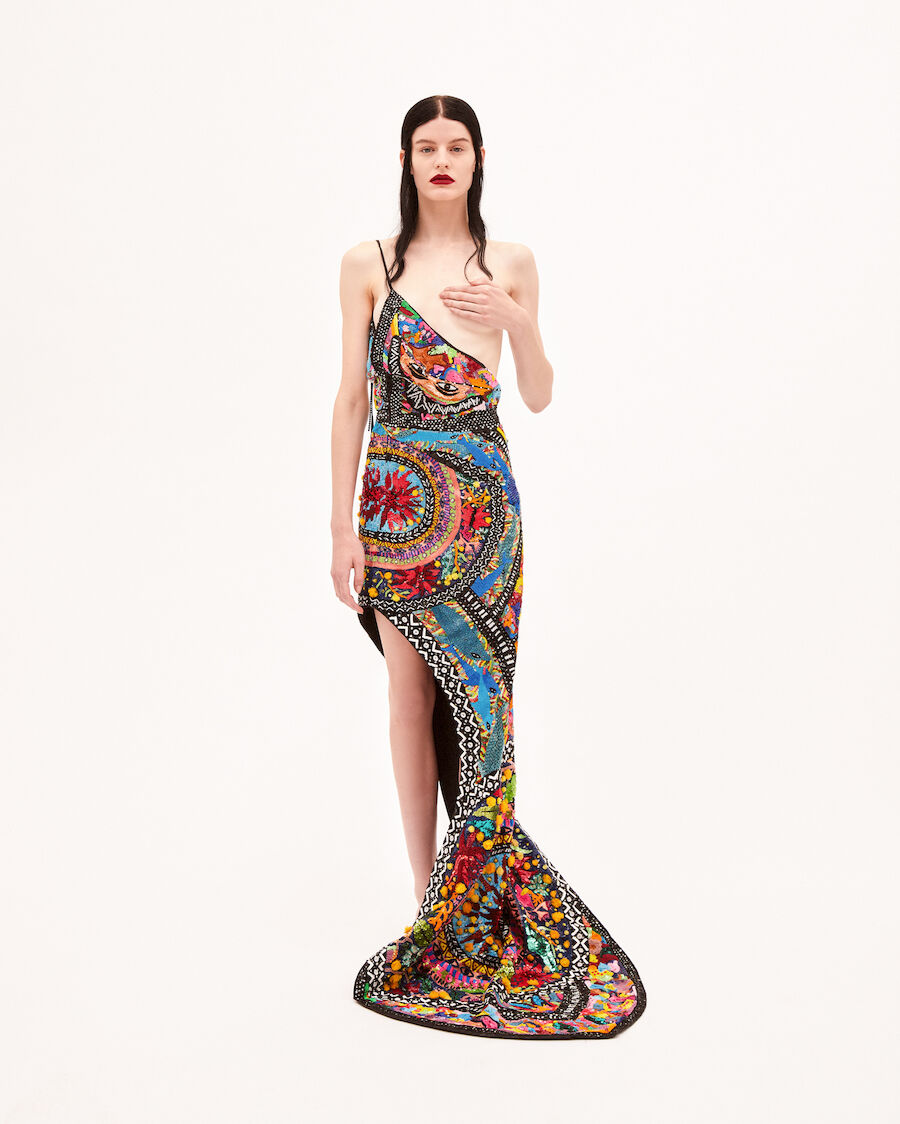 And what did Linda Jackson and Jenny Kee teach you in terms of Australia's fashion landscape? For me, they feel a bit like your spiritual mothers in fashion. How is it that women like that came onto your radar and became such a big part of your life?
LS: We were drawn to their work, not just the fact they are Australian. What we love about them is they're just fabulous. With them, everything's just fabulous. And when we were always being told to be more commercial, they would encourage us in the opposite direction. One night we were working late and I was cutting something and Linda said to me, "Why would you cut it straight when you could cut it zigzag?" I thought that was awesome. That's such a perfect way to think about everything moving forward.
AP: There are so many things we have in common with them, like when Linda started she would work with artists and they would paint directly onto dresses. And Jenny would upcycle something or work with [author and illustrator] May Gibbs. It's a bit freaky, like these parallel worlds. And when we started to do runway, that's when we went full-throttle. We'd make jokes about things but then be dead serious about pulling it off in what we thought was a sophisticated 'runway' way. One time we made a 'volcano' dress out of expandable foam and it had a chicken wire base. And at the time, yeah, we thought it was such an awesome idea. When I look back at the archives I'm like, Wow, we just really didn't give a shit. And we were so honest about what we wanted to do. And I think that's so refreshing and that's why we are still making things. Because we love it.
LS: My mum said we have a really good sense of humour about something we take very seriously. And it's so true. Even our name was a joke and then it kind of stuck. And a lot of the things we say, joking or in passing, come back again and start to have some kind of permanence. Like the volcano dress in 2010, for example, was something Anna asked her boyfriend to make with us and it had flashing lights and we just thought it was really funny, we didn't really think at the time that it was crazy. We just thought, Yeah, that's an awesome thing!I think as time goes by, when we look at something like the volcano dress, I can see that's something we've definitely lost, in a way, which I find really sad. Which is why I'm really excited about doing things like the show we did in Paris in 2018 and our next show in Sydney, where we will be getting back into bridal and making things purely for the sake of it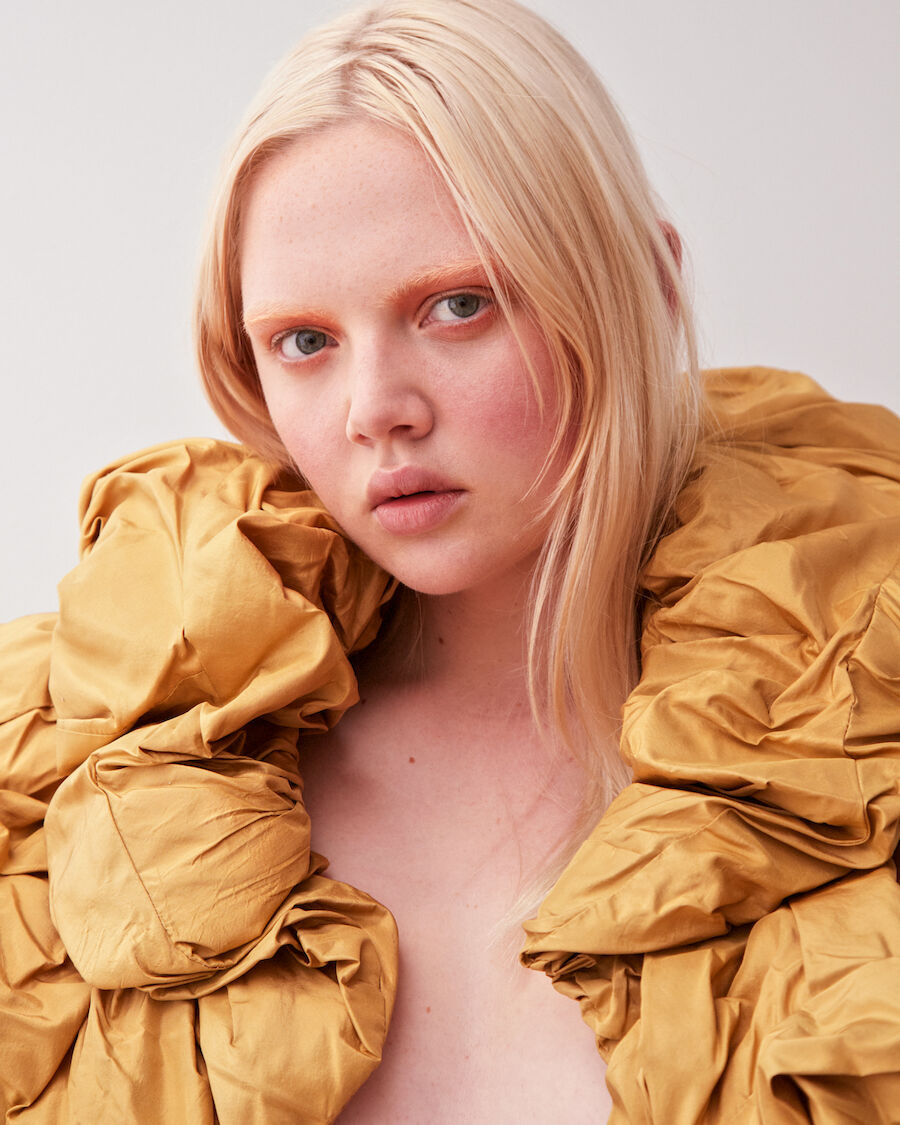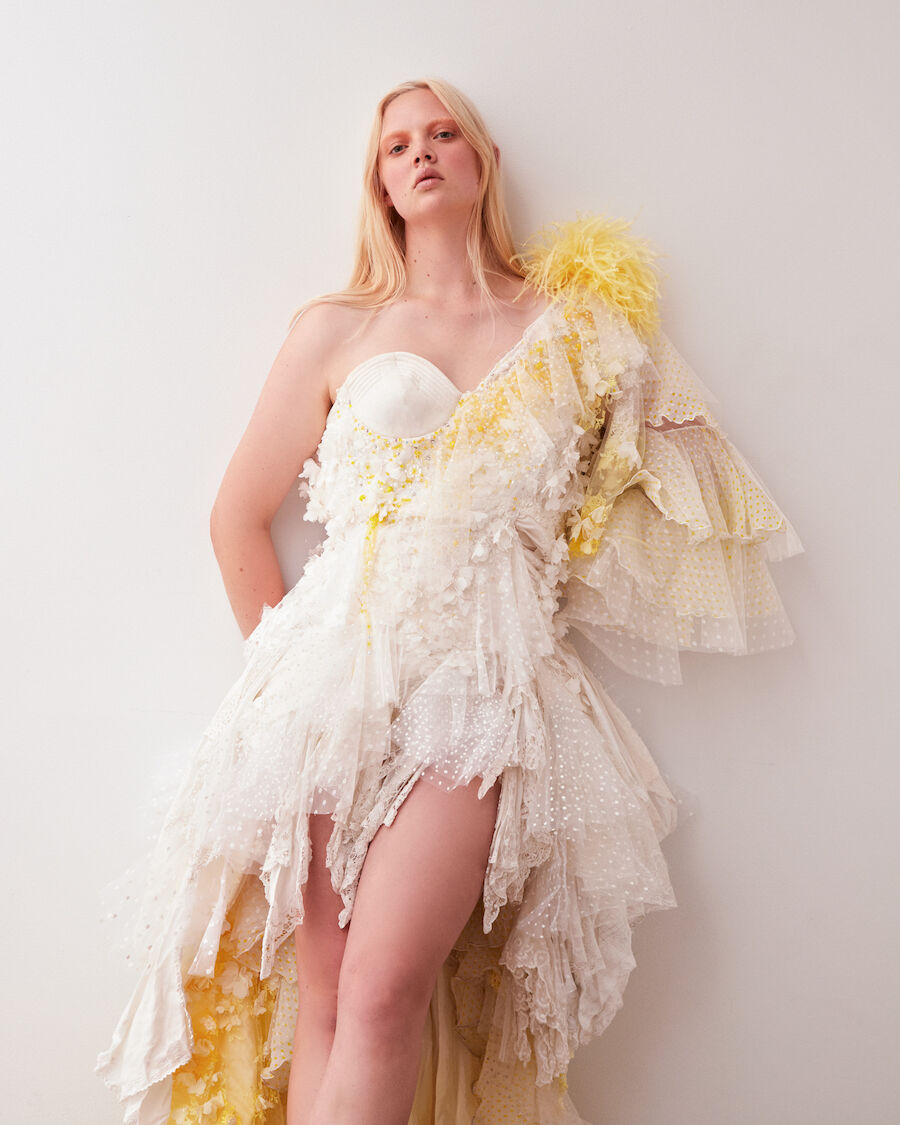 I'd love to hear a little bit about what you are doing with the upcycled bridal collection you will be showing in Sydney at Australian Fashion Week in May. You showed me a dress from the 19th century that you bought at auction...
AP: Well, it kind of sums up what we're trying to do, to encourage the idea of re-wear-ing garments. For bridalwear, it's nearly always just a one-wear thing, but we want people to start seeing it as this garment that can then be evolved into another thing to wear again. So that dress is an 1880s dress, apparently. But the bride's daughter already altered it in the 1920s to fit her too. I think the idea of passing down this family heirloom, that's just so amazing.
LS: That's something we are going to offer, so when you buy a wedding dress from us you can bring it back and we can change it into something you would wear again. We call it 'RWB Forever', as we see it as an heirloom. Also, it has a sustain-able, eco-mindfulness about it. Being 'eco' is so hard to properly categorise. We've been having these big discussions about what it is and what it means to us today.