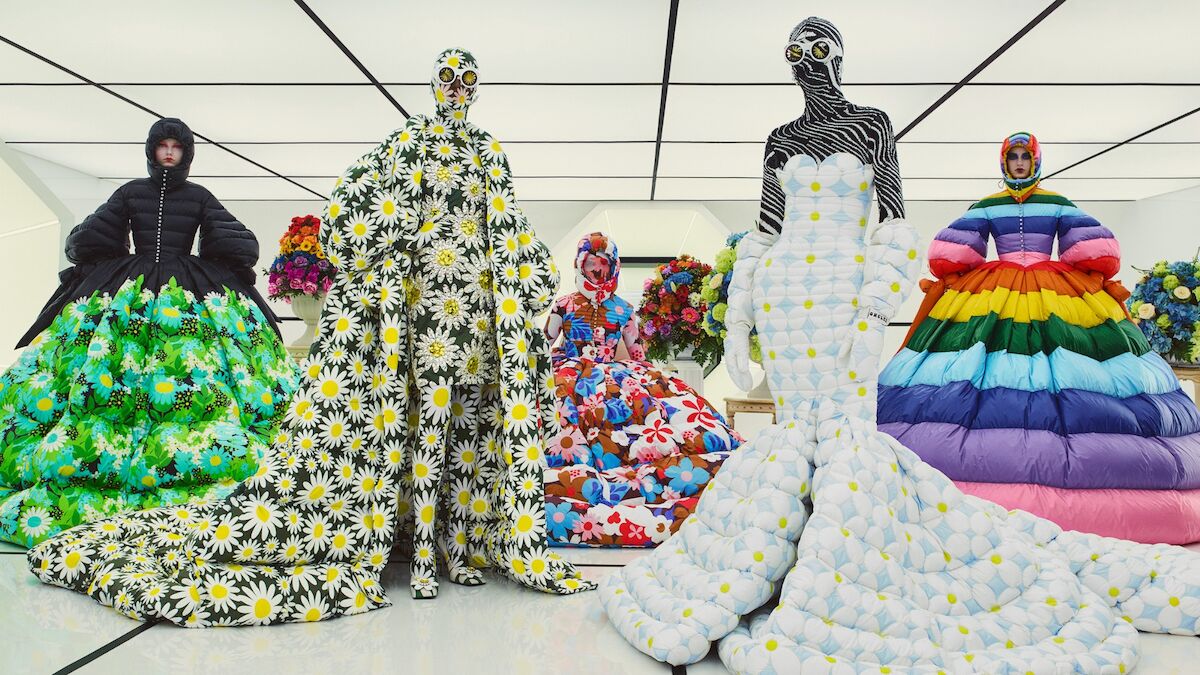 Back to the Future
"Creativity has always championed over times of despair and darkness." Designer Richard Quinn looks back to the future for his debut Moncler Genius collection.
There are moments in life where we crave the quiet, our clothes pieced together to evoke barely a sartorial whisper in order to move gently through the world. There are other instances, however, when we yearn to make noise – to embody optimism and bang the drums, letting our wardrobes speak loudly, joyfully and unapologetically. London-based designer Richard Quinn is master at the latter, so synonymous is his brand with colour, innovative prints and dramatic proportions. The inaugural recipient of the Queen Elizabeth II Award for British Design (you likely saw coverage of her front row presence at his AW 18 show), Quinn's stock has been rising steadily since his 2016 Central Saint Martins graduation, and his latest industry triumph propels him only further: a debut collection for Moncler's Genius project.
Eight different designers, inspired by the same Genius spirit, are commissioned to create capsule collections inspired by the Moncler puffer jacket. And Quinn's inclusion makes sense across the board – his signature penchant for maximalism works in larger than life harmony with Moncler's ingrained pursuit of the extraordinary. The result? Oversized outerwear rendered in wild floral prints, retro patterns and colour schemes adorning puffed couture silhouettes and a nod to the space age, no less.
"I wanted to create a 60s-meets-space age dynamic, a transition from the past to the future in my signature prints that match and clash, with strong headpieces for a vibrant idea of total luxe," his statement from the brand read.
"The idea that creativity should be at the forefront has always stuck with me and I think about that when designing."
Quinn's Genius contemporaries include the likes of J.W. Anderson, Simone Rocha and Craig Green, with each capsule as distinct as the next. "I think power is having the courage to show your vision in a creative way," he explains. I think it's interesting to see how a show or a garment that you make in this journey can bring power to the viewer or the wearer."
As for his foundational inspirations? "I think my time at Central Saint Martins was so fundamental as it was a time where I could really explore without out prejudice my ideas and I was encouraged every step of the way," he explains. "The idea that creativity should be at the forefront has always stuck with me and I think about that when designing."
Regarding the current climate the industry (and world) finds itself in, Quinn remains as hopeful as the garments he designs. "I think it's an uncertain but a very exciting time. Creativity has always championed over times of despair and darkness. It will be interesting to see how the world adapts for the better."